Attend: Program Notes
Thief | Michael Mann | United States | 1981 | 124 min.
At once a meticulously crafted action thriller, a finely nuanced character study, a bold exercise in formal aesthetics, and a gritty, visually explosive look at the underbelly of advanced industrial society, Michael Mann's groundbreaking first feature, Thief, is a true gem.
In an essay on Thief for its Criterion Collection release in 2014, Nick James, the editor of Sight & Sound magazine, describes the first two wordless shots of Michael Mann's groundbreaking 1981 feature debut:
In the first shot, the jewel thief Frank (James Caan) gets into an Eldorado driven by his partner Barry (James Belushi), which then cuts across the camera's field of view and drives away into the distance, down Chicago's rain-swept Lincoln Avenue—thereby epitomizing the script's bare description in a later sequence: "Taillights on wet, black streets." The V of streetlights and its reflection form a perfect X of vanishing-point perspective. The second shot looks up at a big, moonlike light, with torrential rain coming out of the night sky, then pans down slowly between angular configurations of fire escapes to the narrows of Rat Alley. With the big, boxy cars that line the street, and the feeling of the city as a labyrinthine machine, these shots give Thief immediate kinship with the likes of William Friedkin's The French Connection (1971) and Martin Scorsese's Mean Streets (1973). But the X of lights shows a different kind of stylistic chutzpah, and in its grandiose descent from the sky, the second shot suggests a more totalized dystopia than the streets of New York represent in those earlier films, one that anticipates, for instance, the way Ridley Scott would shoot Blade Runner a year later, in a globalized city of perpetual rain. In the Chicago of Thief, the black streets are rat runs and the black sky behind the lights is impenetrable; dreams here have strict limits.
Based on the 1975 novel The Home Invaders: Confessions of a Cat Burglar by "Frank Hohimer" (the pen name of real-life jewel thief John Allen Seybold), Thief stars James Caan as the taciturn, world-weary Frank, a freelance safecracker who specializes in high-line diamond heists. Frank has spent eleven years in prison, where he learned his trade from a fellow inmate and mentor, Okla (Willie Nelson). Ever the consummate professional, Frank works methodically with a tight-knit crew, while adhering to his own personal code of conduct. The brilliant opening sequence of Mann's existential neo-noir crime drama immediately establishes Frank's expertise. With considerable flair and astonishing authenticity, the film minutely observes Frank as he uses industrial tools to expose and remove the locking systems of a safe full of uncut diamonds. Dedication to process and magnification of detail reach the level of abstraction, with bold, hypnotic close-ups of drills piercing through the metal layers and emitting cascades of sparks.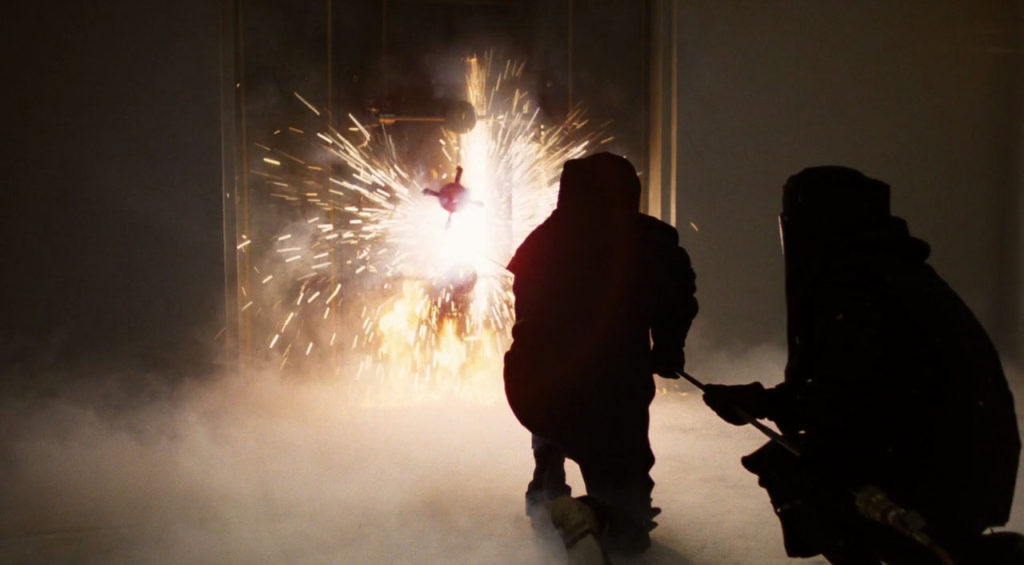 Owing to his particular aptitude, Frank remains on the fringes of society. He desperately wants to leave the underworld behind and realize his dream of a domestic idyll with a wife and children. Determined to compensate for the time he lost behind bars, he plans to build a respectable life. A diner cashier named Jessie (Tuesday Weld) catches his eye and he impulsively asks her out on a date. In the fluorescent glare of a late-night café, Frank tells this woman, who is essentially a stranger, about his experiences in prison and his ambitions for the future. Frank convinces Jessie, right then and there, to become his life partner.
However, Frank has unexpectedly come into contact with Leo (Robert Prosky), a vicious local crime boss who admires his work and offers to employ him. While Frank prefers being an independent contractor, he agrees to do one final diamond heist, in the hope that it will enable him to retire from his occupation. Of course, his acceptance of Leo's proposal turns out to be a mistake and he soon discovers that escape is more complicated than he had anticipated. All of a sudden, he finds himself under police surveillance, everyone knows his business and insists on a piece of the action, and Leo has his own plans for the thief.
While making the TV drama The Jericho Mile on location at Folsom Prison in 1979, Mann became closely acquainted with the way felons interact with one another in a penal institution. The movie tells the story of Larry "Rain" Murphy, a convict serving a life sentence for murder who survives his time on the inside by keeping mostly to himself and focusing on running. In time, he becomes so proficient that he actually starts training to be an Olympic competitor. In a 2014 interview with Kevin Jagernauth for IndieWire, Mann reveals that The Jericho Mile helped him gain insight into the character of ex-con Frank in Thief.
The idea of creating his character, was to have somebody who has been outside of society. An outsider who has been removed from the evolution of everything from technology to the music that people listen to, to how you talk to a girl, to what do you want with your life and how do you go about getting it. Everything that's normal development, that we experience, he was excluded from, by design. In the design of the character and the engineering of the character, that was the idea.
Nevertheless, in the absence of social growth, Frank has become a highly accomplished career criminal. His pursuits may not be particularly noble, but his intentions are pure and no one ever gets hurt. Frank focuses obsessively on his work and completes tasks in accordance with exacting standards. Mann finds something poignantly human in his relentless perfectionism and desire to transcend his circumstances.
Caan delivers a particularly convincing and unforgettable performance as the titular antihero of Thief. The film comes alive because the characters are vividly three-dimensional. Every principal performance in Thief successfully creates a plausible person, rather than the cookie-cutter characters that viewers might expect. Therefore, the interactions between people are just as riveting as the action sequences.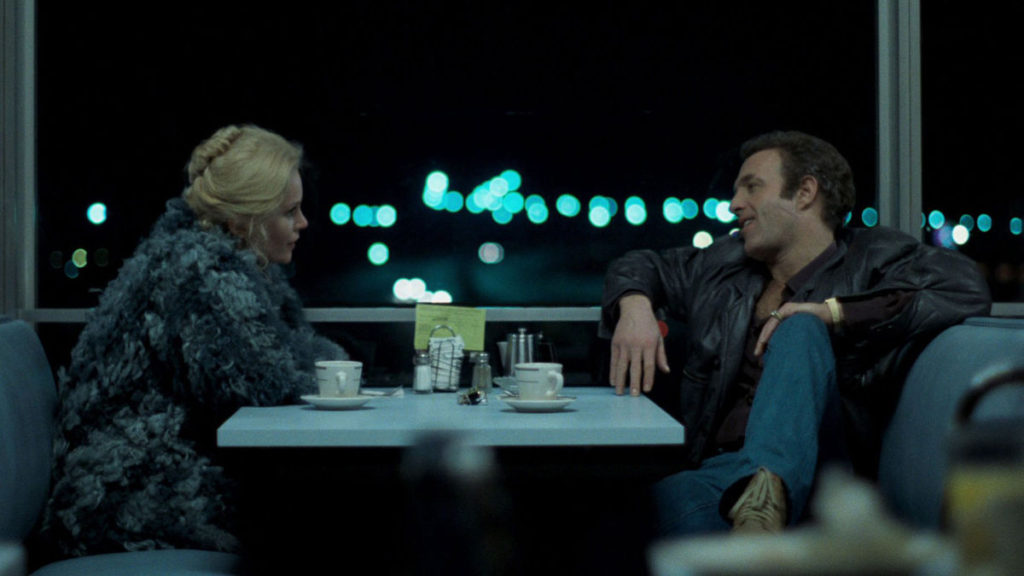 Mann sets his slick, stylish breakthrough film in Chicago, where he grew up in a tough neighborhood. Thief conveys the sense that he knows the streets intimately and the director's painstaking attention to detail imbues the film with its lifelike textures. Achieving a certain level of realism in the preparation and production of Thief was key. It was made with real-life thief John Santucci as a technical consultant; he also plays the part of a cop. For his leading role, Caan was expected to do much more than just embody perfect cool. Unbeknownst to the actor when he took on the part, he would need to actually acquire the difficult skill of breaking into hard-to-crack safes. The tools seen throughout Thief, such as the magnetic drill applied in the opening sequence, are not props, but real tools which the actors were trained to use.
With its striking verisimilitude, desaturated, cobalt-blue imagery, video-game-like environment of neon-washed streets, and propulsive, hypnotic synthesizer music by Tangerine Dream, Thief evokes a sterile, mechanistic, inhuman world. Mann and cinematographer Donald Thorin present a simultaneously grim and dreamlike vision, finding cold beauty in a hyperkinetic techno-industrial grid as the dazzling electric variegated signs of late-night Chicago pop against the soft shimmer of perpetually rain-blurred surfaces.
At once a meticulously crafted action thriller, a finely nuanced character study, a bold exercise in formal aesthetics, and a gritty, visually explosive look at the underbelly of advanced industrial society, Thief is a true gem.