Attend: Program Notes
Women in Love | Ken Russell | United States | 1969 | 131 min.
A deliriously stylized, exceptionally provocative, and revolutionary adaptation of the controversial 1920 novel by D.H. Lawrence, Ken Russell's Women in Love probes the complexities of human sexuality through the lens of late-sixties free love.
A florid, provocative and visually extravagant adaptation of the landmark 1920 novel by D.H. Lawrence, Ken Russell's Women in Love (1969) remains remarkably faithful to his source material, while elevating it to dizzying aesthetic heights. Larry Kramer's erudite screenplay extracts virtually all of its dialogue from Lawrence's novel, with some judicious interpolations from the author's poems and letters. Russell, the celebrated enfant terrible of British cinema, shot the film at the moment when permissiveness on the screen finally made it possible to do Lawrence justice. When Women in Love premiered in 1969, the picture caused a sensation with its groundbreaking depictions of sexuality beyond the heteronormative. In spite of, or perhaps because of, its transgressive elements, Women in Love became a box-office hit and earned considerable acclaim, catapulting both its director and its leading lady (Glenda Jackson) into the spotlight. Although time can dilute the potency of a controversial work of art, Russel's kaleidoscopic, lavish, high-camp spectacle endures as a significant cultural artifact and a singular cinematic experience.
Where Lawrence's book maintains a deliberately ambiguous timeframe, Russell's film takes place soon after World War I, when members of the Lost Generation, as a result of the widespread social upheaval, were disillusioned with the world in general and unwilling to embrace established behavioral patterns. This lack of cultural and emotional stability provided fertile ground for exploring the myriad possibilities for personal and sexual freedom, a situation that nicely resonates with the late-sixties era of "free love."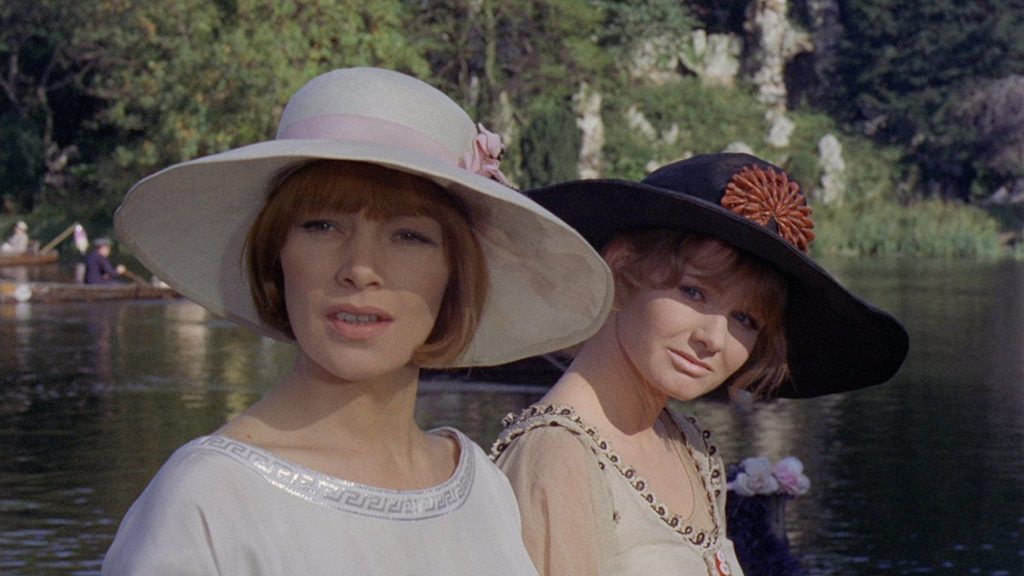 Set in a dreary, blighted English Midlands mining town, Women in Love follows the romantic exploits of two liberated sisters, the ambivalently sadistic sculptress Gudrun Brangwen (Glenda Jackson) and the demanding, enigmatic schoolteacher Ursula (Jennie Linden). Gudrun drifts into an entanglement with the aloof, brooding industrial heir Gerald Crich (Oliver Reed), while Ursula falls for Rupert Birkin (Alan Bates), a restless, free-spirited visionary who, with his poetic soliloquies and pointed beard, resembles Lawrence himself. This quirky quartet is perfectly complemented by a brilliant cast of absurd peripheral characters, including Rupert's discarded lover, the eccentric heiress Hermione Roddice (Eleanor Bron) and Loerke (Vladek Sheybal), a vaguely sinister, proto-fascistic German artist with decadent sensibilities.
Women in Love initially suggests an acerbic comedy of manners as Russell playfully skewers the insular, hermetically sealed world of the modern intellectual elite. (For instance, at an outdoor luncheon, Rupert elaborately compares the act of eating a fig to cunnilingus.) However, the tone of Russell's film begins to darken and it veers into hallucinatory melodrama after an ill-fated, late-summer soiree by a lake. Russell depicts the ever-shifting psychic landscapes of his avant-garde characters in a staggering succession of fevered tableaux. The director uses Lawrence's occasionally overwrought prose as license for flights of grandiose lyrical reverie, such as musical interludes, bizarre interpretive dance routines, abundant sex scenes, and most memorably, a homoerotic nude fireside wrestling match between Gerald and Rupert.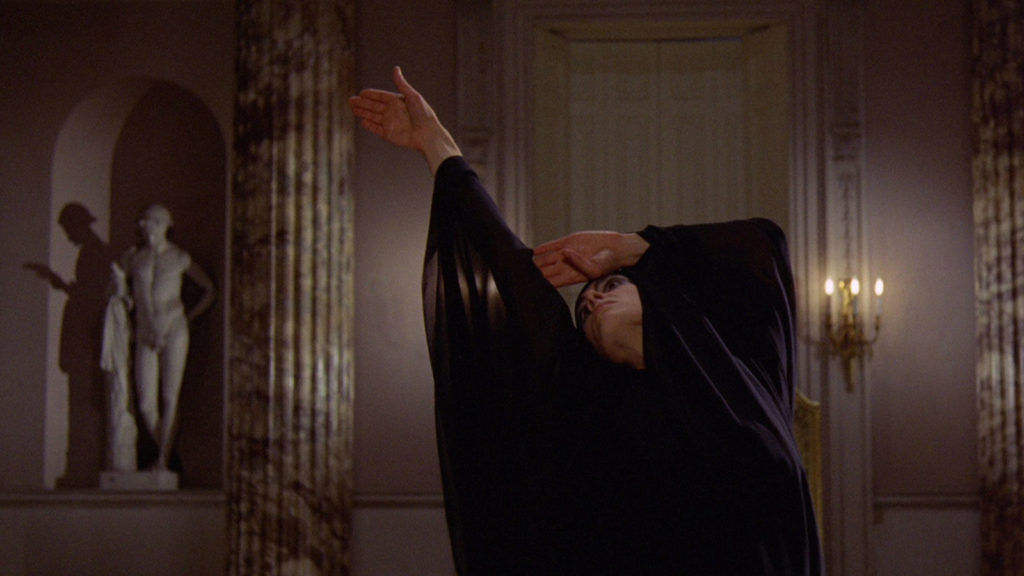 As the two amorous, amorphous relationships at the center of the film become increasingly intertwined and complex, Russell vividly captures the volatile emotions of each character, generating a whirlwind of erotic intensity. The four sensual, forward-thinking people strive to achieve a delicate balance between their primitive impulses and lofty ideals, while flouting the staid, stifling conventions of English society.
Their probing self-analyses and romantic ruminations about love and being are seamlessly woven into broader philosophical discussions about art, sexual politics, and power. Lawrence's writing is extremely idea-led, but Russell visually translates the passions of his characters into a deliriously stylized portrait of human sexuality on the verge of modernity, as seen through the lens of the late-sixties cultural moment.
As a commercial success, Women in Love was controversial. The British critic F. R. Leavis called the movie "obscene" and "an outrage." A decade that began with court rulings in the United States and England allowing for the expurgated publication of Lawrence's scandalous Lady Chatterley's Lover, the 1960s were a receptive moment for his thoughts on men and women, and men and men. (The author died in 1930 before his right-wing political views could overshadow these sexually revolutionary ideas).
For all the excesses, Women in Love survives as a milestone in film history and a bold, exquisitely crafted work of art in its own right. In a recent essay titled "Women in Love: Bohemian Rhapsody," Scholar Linda Ruth Williams observes, "The famous homoerotic male nude wrestling scene between Birkin and Gerald—once a notorious censorship cause célèbre—is most remarkable now not for its swinging penises but for its naturalism, with firelight as the only apparent light source throughout." She proceeds:  
Of course, Women in Love's moral detractors focused most particularly on the nude wrestling scene. If film history is written in part in those landmark moments when the previously unrepresentable becomes visible, Women in Love constitutes just such a moment. In it, we find mainstream cinema's first overt representation of male genitalia, within a veiled gay love scene that appeared just two years after the passing of the United Kingdom's Sexual Offences Act 1967, which legalized sodomy for men over twenty-one.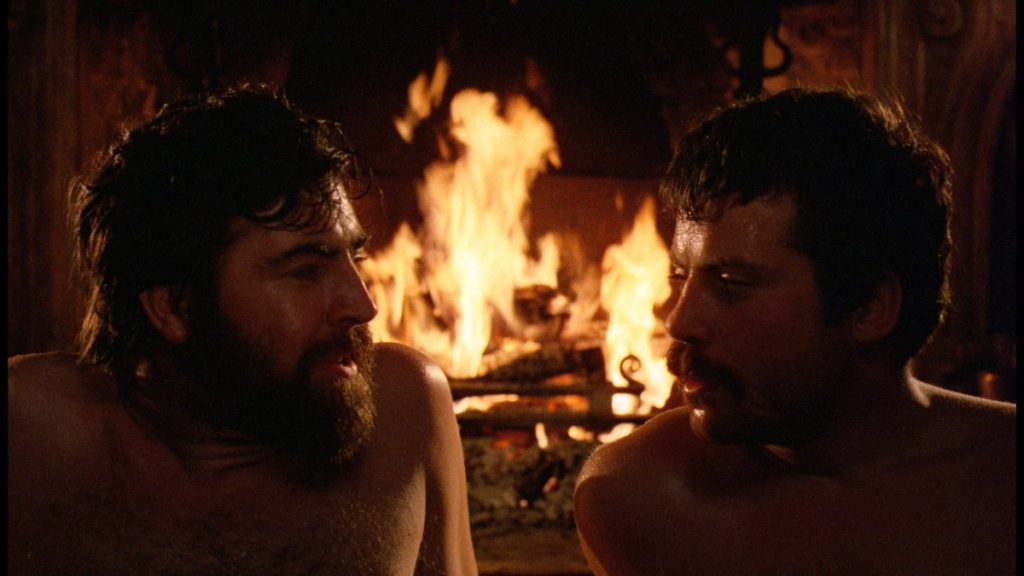 The film was released on Blu-ray and DVD by the Criterion Collection on March 27, 2018, with the Blu-ray featuring a restored 4K digital transfer, which Budd Wilkins, in his review of the release, describes as "nothing short of a revelation." Shot by cinematographer Billy Williams in a lush, painterly color palette against the bucolic backdrops of Derbyshire and Northumberland, Women in Love can be appreciated fifty years later for its sumptuous images and expressive lighting. The impeccable costume styling by Shirley Russell (the director's wife at the time) and the art direction by Ken Jones are also noteworthy, since Wilkins writes that the 4K restoration of Women in Love authentically captures "the vibrant hues of the Brangwen sisters' apparel . . .  and all the baroque details of the lavish country home interiors."
Russell brings D.H. Lawrence's classic exploration of human sexuality to the screen with candid eroticism and the director's own distinctive visual flair. Though twenty-first century audiences may not be shocked by the content of Women in Love, his film demonstrates the power of cinema to defy sexual and artistic conventions, while inviting us to envision what types of love, as well as art, will be possible in the future.
Nicknamed "Kinky Ken Russell," the acclaimed, eccentric and polarizing filmmaker died in 2011, after a series of strokes, at the age of 84. He told NPR in 1991: "My films assault people, but that's because the images are potent. I don't have any gratuitous scenes in my films. They're actually integral to the plot."