Jake's Take: One Image from Casino Royale (Martin Campbell, 2006)
Over forty years after the franchise began, the story of James Bond and Vesper Lynd is finally told.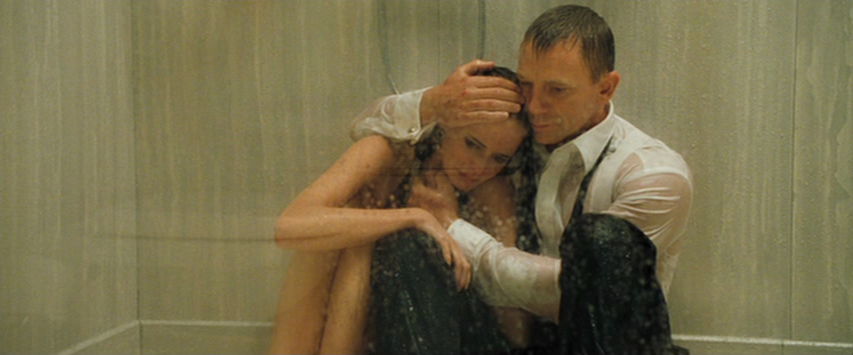 "It doesn't bother you? Killing those people?
"Well, I wouldn't be very good at my job if it did."
Before proceeding here, I must make a quick note. As of last night, I have seen SPECTRE. Don't worry; no spoilers here…yet. The one thing I will say right now is that I can't talk about the other three Craig films in the same way as I planned, because SPECTRE has changed the way I look at them, and I need time to reckon with that, which I will do when I publish my piece on SPECTRE here in the next couple of weeks.
The prolific and brilliant writer Warren Ellis—and as of this week, current steward of the Bond character in comics—once posted a very short piece entitled "An Observation about Casino Royale and James Bond," in which he posits a compelling theory about Vesper Lynd (played to perfection by Eva Green) being the real Bond in this film, and Daniel Craig's Bond being, instead, the Bond girl. I would say, however, that the image above serves as quite the exception to this notion.
The scene in question, of course, the scene after the stairwell fight, which is one of most brutal and visceral in the whole series. It is a scene of trauma played with remarkable tenderness, and it is something that, at the time, I never imagined might happen in a Bond film. Some of this owes to David Arnold's deft use of the piano in the score (an instrument whose impact on the later scores of the series cannot be underestimated). Most of it owes to the amazing acting from the film's leads, both of whom bring a psychological depth to their characters that is rarely seen in all of Bond, to say nothing of action/adventure cinema as a whole.
That said, there is a fair amount of truth to what Ellis says about both Vesper and Bond, and it is an important note for the trajectory of Bond's character arc through the films, which is a trajectory of loss. Craig's Bond is irrevocably changed by the end of each of his films, and this is something that will result in the best proof of my notion of the lead actor solidifying his performance/characterization within 4 films. But, as I said, more on that when I get to SPECTRE.
I read and loved the Fleming novel when I was 9 or 10 years old, so in some ways, Casino Royale was a film I'd waited much of my life to see. In that respect, it is somewhat difficult for me to be objective about it. It is, the very best of the Bond series, both for its adherence to Bondian traditions and its departures from them. Craig is simultaneously Ian Fleming's Bond and something altogether new, and Martin Campbell (GoldenEye) proved the absolutely correct choice to resurrect Bond, both narratively and stylistically. Mads Mikkelsen was so great as Le Chiffre that I almost wish that he'd been saved for a grander villain.
Toward the beginning of the film, M says to Bond, "I need to know I can trust you, and that you know who to trust." By the end of Casino Royale, Bond has learned the latter part of that lesson, but it would take him one more film to learn the former.
Rankings
1. Casino Royale
2. On Her Majesty's Secret Service
5. From Russia with Love
6. GoldenEye
7. Thunderball
8. The Living Daylights
9. Goldfinger
10. Dr. No
11. For Your Eyes Only
12. The Spy Who Loved Me
13. Licence to Kill
14. Die Another Day
15. Octopussy
16. The World Is Not Enough
17. You Only Live Twice
18. Tomorrow Never Dies
19. Moonraker
20. Live and Let Die
21. A View to a Kill
22. Diamonds Are Forever
23. The Man with the Golden Gun