Jake's Take: One Image from Die Another Day (Lee Tamahori, 2002)
The magnificent Judi Dench at the end of one Bond's tenure and on the cusp of another's.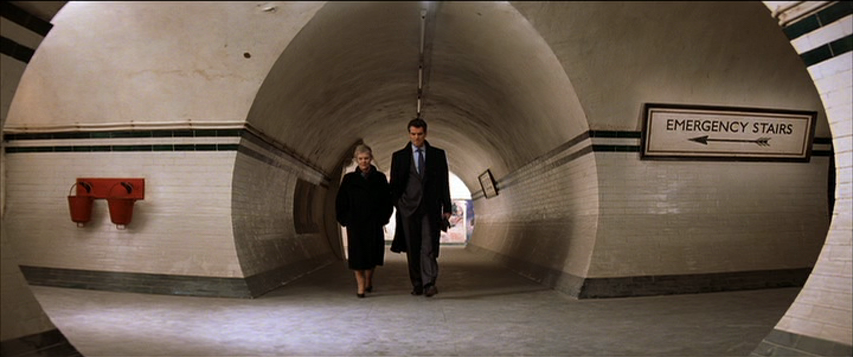 "Knowing who to trust is everything in this business."
Talking about Q in my last post, it seemed logical to move a few letters back in the alphabet for this one. I could talk about the contributions of Bernard Lee, who was largely faithful to Fleming's characterization, or Robert Brown, who did a fine job stepping in for Lee after he died. But I have waited to talk about M precisely because Judi Dench feels more like the definitive M of the films than either of those two gentlemen. There are a couple of reasons for this.
First, the relationship between M and Bond in this film is the most compelling it's ever been (pre-Craig), and it is the culmination of her relationship with Brosnan's Bond. When Bond first meets the new M in GoldenEye, she takes him to the woodshed for being a "sexist, misogynist dinosaur," quickly establishing her power and that she'll have none of Bond's puerile insolence. On Bond's way out the door, she could hit him with one more quip for good measure, but she instead utters three simple, all-important words: "Come back alive."
She almost instantly gains Bond's respect here, a respect that develops over the course of Tomorrow Never Dies and especially The World Is Not Enough. In that film, Bond and M still argue, but Bond has clearly grown protective of her beyond a standard agent/chief obligation. Early in the film, even though he is frustrated at being removed from active duty, he lends her an unusually compassionate ear as she relays the story of Elektra's kidnapping.
Die Another Day shows just how tough she can be. M is willing to leave Bond a captive in North Korea until it seems as though he might be giving up information to the enemy. But she also comes full circle from the stern rookie in GoldenEye, as shown later in the film when she knowingly wants to send Bond in to "mix things up with Mr. Graves." These are two people who know each other exceedingly well, and whose strong convictions—while perhaps initially in opposition—will always converge to get the job done.
I remember the grumbling about how a female M wouldn't work. It was, of course, a ridiculous notion. She worked so well that, when Michael Wilson and Barbara Broccoli decided to throw in the towel on 40 years of continuity and start fresh, Judi Dench was the one mainstay that they retained. This is the second reason she is the definitive M; she is the only player to bridge the gap between continuities. In Casino Royale, the tables are turned, of course. Bond is the rookie here, and M is deftly written as a no-nonsense yet motherly stand-in for the orphan-turned-agent (particularly in Skyfall, of course).
Regarding Die Another Day as a whole, I always think of it as the failed masterpiece of the franchise. It could have been one of the very best installments, managing to do so much right in the first half: Bond's capture and torture, the prisoner exchange, Bond going rogue (again) and trying to figure out who the inside villain is, along with the scenes with M in the "abandoned station for abandoned agents" shown above. However, once Bond arrives at Gustav Graves' (Toby Stephens) ice palace, the film never really recovers. Halle Berry's Jinx is the other major flaw in this film. Her performance is full of unfortunate line deliveries, and she does not play as the equal to Bond that the film's press made her out to be. I would much rather Miranda Frost (Rosamund Pike) had been Bond's main ally. Having her turn on him in that situation would have been far more dramatically satisfying, instead of the quick twist that it ends up being.
But bringing in Judi Dench was a stroke of genius. Keeping her was an even greater one.
Besides, Dench's M prefers bourbon over cognac. So, you know, she's automatically my favorite.
Rankings
2. On Her Majesty's Secret Service
5. From Russia with Love
6. GoldenEye
7. Thunderball
8. The Living Daylights
9. Goldfinger
10. Dr. No
11. For Your Eyes Only
12. The Spy Who Loved Me
13. Licence to Kill
14. Die Another Day
15. Octopussy
16. The World Is Not Enough
17. You Only Live Twice
18. Tomorrow Never Dies
19. Moonraker
20. Live and Let Die
21. A View to a Kill
22. Diamonds Are Forever
23. The Man with the Golden Gun