Jake's Take: One Image from Licence to Kill (John Glen, 1989)
A tasteless joke heralds tragedy for Bond's best friend, turning Bond into a rogue agent.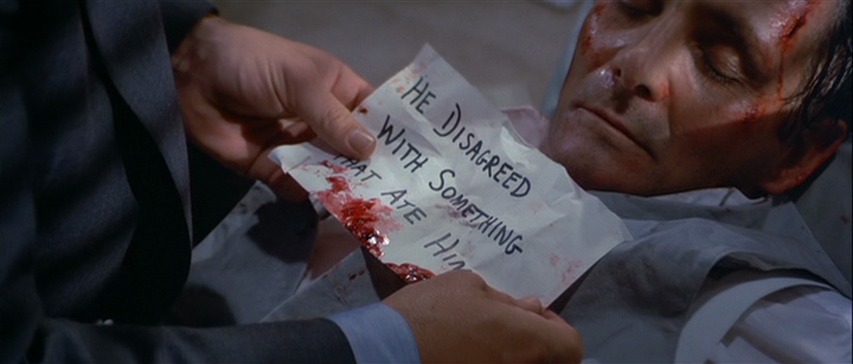 "In my business, you prepare for the unexpected."
While the Daniel Craig films aren't particularly jokey, there is an increasingly consistent joke about them: Craig's Bond goes rogue all the time, along with almost every other onscreen secret agent in the modern espionage genre. In 1989, it was a far bigger deal that the famed secret agent's licence to kill had been revoked. To make the story work, there would have to be an incident of such heartbreaking impact that a vendetta would be unavoidable.
Enter Bond's best friend, former CIA agent Felix Leiter (here played for the second time by David Hedison), and his mutilated body at hand of drug kingpin Franz Sanchez (Robert Davi) and a hungry shark. It is this, as well as the brutal murder of Felix's wife Della (Priscilla Barnes)—on their wedding day no less, recalling Bond and Tracy—that sets Bond off from the service and on a path of bloody vengeance. Again, we have truth in a tagline (or an original tagline, anyway): "Dismissed. Disgraced. Dishonored. Deadly."
In the books, Felix is a Texan CIA agent turned Pinkerton man, arguably Bond's best friend, and a sort of makeshift mentor figure as well. The mentor aspect is missing from the films, but Bond and Felix are definitely friends to varying degrees in 9 of the series' entries (much to my chagrin as a native, Felix's Texan background is not acknowledged). It is Bond's overjoyed response to seeing Felix (Cec Linder) in Goldfinger that first signals how important this character could be in an ongoing capacity. Admittedly, Linder's Leiter was a snooze, but it's still an essential moment that Sean Connery plays brilliantly (I don't know if he was ever so excited at any other time in the movies…verbally, anyway).
David Hedison showed up first in Live and Let Die, and his Leiter always played more as Bond's friend than just his ally, which is how it should be. While he comes off as kind of a nag with Roger Moore, Hedison and Dalton make quick work of establishing an excellent…oh, I can't say "bond" here, can I? Apart from the last scene—in which everything seems to be peachy keen but for the missing leg and part of an arm, but hey let's go fishing!—there is not a shade of bad performance in Hedison's fairly limited screen time.
If I take issue with the Daniel Craig films at all, it is because the train has left Felix at the station. It's too bad, because Jeffrey Wright is the best Leiter in the series. Craig's first two films began to develop an excellent friendship parallel to the novels that would be jettisoned when Skyfall arrived. Then again, it doesn't do for Craig's Bond to have too great a support structure in the field, as it does work somewhat against the sensibilities of his cycle.
As for Licence to Kill, in retrospect it feels like the poor man's Quantum of Solace—all of the excellent performance of the later film, but without any of the visual style. The production looks cheap in a number of places—the bar fight, for example, or the safe house where Bond is taken after he is attacked by ninjas (I still like a friend's alternate title for the film: South American Ninja Attack). However, the emotional core of the story remains compelling, and Dalton's performance once again deserves much of the credit for that. Reading John Gardner's novelization of GoldenEye, it's easy to see what it might have been like to have Dalton in that role as well, and as I mentioned last time, I wish he'd had the opportunity. Despite the lower stakes of the drug plot (recalling Live and Let Die), Robert Davi is one of the better villains in the series, and Carey Lowell's Pam Bouvier is the best Bond woman to date.
There are many reasons for Licence to Kill's box office failure, and it would be 6 years before James Bond would return to screens, and when he did, audiences would remember once more that there is no substitute for 007.
Rankings
2. On Her Majesty's Secret Service
5. From Russia with Love
7. Thunderball
8. The Living Daylights
9. Goldfinger
10. Dr. No
11. For Your Eyes Only
12. The Spy Who Loved Me
13. Licence to Kill
15. Octopussy
17. You Only Live Twice
19. Moonraker
20. Live and Let Die
21. A View to a Kill
22. Diamonds Are Forever
23. The Man with the Golden Gun