Jake's Take: One Image from Thunderball (Terence Young, 1965)
An image from later in the film illustrates Sean Connery's confidence in his role as well as the film's wealth of wonderful women.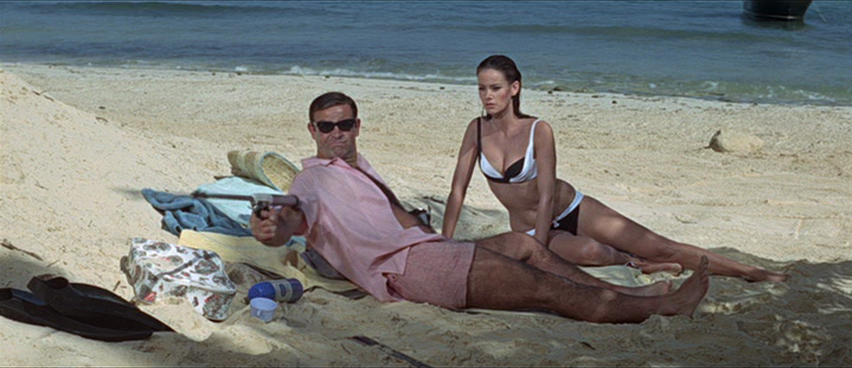 "I think he got the point."
It has always seemed to me that it takes four films for the actor playing 007 to be truly comfortable in the role. If he hasn't already, Daniel Craig will surely reach this point with SPECTRE. It's certainly the case with Roger Moore and Moonraker, as well as with Pierce Brosnan and Die Another Day. Those two gentlemen fully established their Bond personae with those installments. Almost every single one of Sean Connery's scenes in Thunderball seems to prove this notion of comfort in the role.
This frame in particular undoubtedly does. In one moment, he's lounging on the beach with Claudine Auger's Domino, exuding both his customary charisma as well as a singular intensity for the mission at hand. The next, he's SHOOTING A MAN WITH A SPEARGUN and, without missing a beat, issuing the customary witticism, "I think he got the point." Throughout the film, Connery oozes an almost unfair amount of confidence, or it might be unfair, if his performance wasn't so damned enjoyable. Before his weariness with the role noticeably weighs on him in You Only Live Twice, Connery is in this film at the pinnacle of his portrayal of Bond.
The other half of the image points to another fascinating aspect of Thunderball, namely its exciting women. This installment gives us the franchise's first henchwoman, Fiona Volpe, played with sinister allure by Luciana Paluzzi. Volpe has some of the same agency I discussed regarding Red Grant, and in her conversation with Largo (Adolfo Celi), there is an unusual and welcome sense of equal footing between the two as they plan Bond's demise. Martine Beswick, who also appeared in From Russia with Love in, shall we say, a memorably peculiar fight scene, plays Bond's assistant in the field, Paula Caplan. She unfortunately ends up being the film's obligatory sacrificial lamb, but she has an unmistakably considerable presence in all of her scenes.
But, to return to the image above, we have Claudine Auger as Domino. Auger gives her character a more sophisticated personality than Fleming's source material provides. She is playful without being immature, and vulnerable without being ineffective, to say nothing of her bravery and resourcefulness. Indeed, Domino proves to be the ultimate hero of the film, by saving Bond from certain death at Largo's hands. In that respect, the character follows in Tatiana Romanova footsteps in From Russia with Love, Romanova's pistol intervening in the fight between Bond and Rosa Klebb. Avenging her brother's death, Domino's rescue of Bond is far more dramatically motivated and, thus, serves as a more satisfying payoff. In Domino we also have a template for Bond women in pursuit of vengeance, which eventually reaches its apex with Olga Kurylenko's Camille in Quantum of Solace. (More on this later.)
The tagline for Thunderball called it the biggest Bond of all. I call that truth in advertising. The stakes are positively epic, with the world being held hostage by nuclear bombs. In terms of seriality, we return to the villainy of SPECTRE, working our way up to the reveal of Ernst Stavro Blofeld with Largo, his second in command. Adolfo Celi certainly gives Gert Frobe a run for his money in terms of performance but ultimately does not surpass his predecessor. Even the frame was bigger; Thunderball was the first picture of the series in scope format, which would remain the series' format for all but three films thereafter. The film only suffers from the underwater scenes, in which the pace of the film often feel like it's grinding to a halt.
People didn't seem to mind much, though, since Thunderball did better (adjusted for inflation) at the box office than any film until Skyfall. In my qualitative estimation, it is second only to From Russia with Love, and like that film, it only improves with age.
Rankings
5. From Russia with Love
7. Thunderball
9. Goldfinger
10. Dr. No