Editor's Note: I invited Sean Weitner to contribute an article about this year's Wisconsin Film Festival attendance numbers because I have been a fan of his work on the topic at Dane 101, which has been in "permanent stasis" since Feburary, 2014. For a little context, I encourage you to check out his previous Dane 101 articles and commentary: his "Wisconsin Film Festival 2012 Attendance Dips to Pre-2007 Levels," his 2012 follow-up interview with Arts Institute Events Director Christina Martin-Wright, and the "WiFilmFest 2013 Dane101 Wrap-Up". I particularly recommend reading the discussion in the comments section of the 2012 article to get a sense of Sean's commitment to understanding what the numbers might tell us.
Another piece of useful contextual information can be found in the infographics published this year by the Capital Times, "Wisconsin Film Festival By the Numbers," which includes a bar chart for attendance between 2007 and 2013. I'm confident that this year's numbers will inspire some debate, especially about how to interpret the Capitol Theater's 2,077 tickets in a year that reported an increase of 1,600 tickets. I encourage readers to begin that discussion in the comments section, below.  —James Kreul
---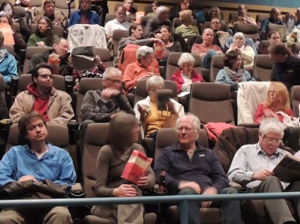 On its website the Wisconsin Film Festival posted a total attendance of 28,300 for 2014, a 6 percent uptick from 2013 after two years of declining sales. In many ways, the 2014 Festival was identical to last year's—the exact same number of screenings, 161, were held at the same seven main venues: UW Cinematheque, Chazen, Elvehjem, Union South Marquee and three screens at Sundance Cinemas. Additionally, the Festival returned to a limited engagement at the 1,100-seat Capitol Theater at the Overture Center. The five screenings at the Capitol on Sunday, April 6 had a total attendance of 2,077, according to Festival Coordinator Ben Reiser. By comparison, the 6 percent increase over the 2013 total attendance represents fewer than 1,600 tickets.
That news is a mixed blessing, as it indicates that attendance was slightly down at the seven main venues compared to last year. If the Capitol screenings were excluded, the 2014 attendance at the remaining venues would be almost 500 less than 2013. My point is not to look at a sales increase and call it a decrease, but instead to ask whether it now makes sense to consider approximately 28,000 tickets to be the festival's new normal.
Attendance had climbed steadily over the Festival's 14-year history before plummeting by 21 percent in 2012. 2014 is the third year with essentially equivalent ticket sales; by contrast, the Festival's peak sales were roughly 36,000 in 2011. Since that year, the Festival saw its two largest venues, the Orpheum and the Wisconsin Union Theater, become unavailable or logistically untenable, and with them the Festival lost the ability to pack in blockbuster audiences. While 2014 saw some significant unmet capacity in the traditional venues—28 percent of seats went unsold—it is perhaps unlikely that those seats are ever going to be sold.
My point is not to look at a sales increase and call it a decrease, but instead to ask whether it now makes sense to consider approximately 28,000 tickets to be the Festival's new normal.
Coincidentally, the total capacity across the seven main venues for 161 shows is just over 36,000, which means to match 2011 numbers those venues would have to program 100 percent sellouts. A Festival selling out every screening is probably not being adventurous enough in its selection; its current 72 percent sell-through rate is plenty commendable and probably healthier.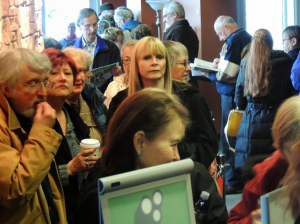 If so, then the only way for the Festival to grow is to add more venues; it can't possibly add more days. But does it need to grow? In an e-mail interview, Reiser said the 2014 Festival "exceeded our expectations on a number of levels: attendance, critical and anecdotal feedback." Ticket sales account for about two-thirds of the festival's operating budget; if "exceeded expectations" means that the the festival is generating sufficient revenue to self-perpetuate, then that may be good enough.
This is not a given—in 2012 Arts Institute programs director Christina Martin-Wright said that management considered not conducting the Festival in 2013, the year that the Orpheum, famous for its raucous capacity crowds, was unavailable for the first time since its first festival in 2000. The festival's overhead is, within some swag allowance, fixed. In 2011, student tickets were $5 and standard tickets were $8; assuming a 50/50 split and an average ticket price of $6.50, that's $233,000 in revenue. Ticket prices were the same in 2012; in 2013, they were the same except standard tickets cost $10 if you waited to buy them at the venues; in 2014, standard tickets were $9 pre-fest, $10 during the fest, and still $5 for students. If we assume an assume an average 2014 ticket price of $7.25 (50/50 with an allowance for the tardiness surcharge), that's $205,000. (In this estimate, the increased ticket price accounts for more than $20,000 in revenue.)
And so if the Festival is healthy at its current revenue level, do 2,077 tickets justify the expense and effort of a new venue? Does it need the Capitol Theater, or any additional venue? "​I think we found that what we show and when is of equal, if not more, importance to ticket buyers​ as where the screenings are held," Reiser said. "​While we were of course delighted with the attendance numbers at the Capitol Theater, ticket sales are only one factor among many when determining Festival venues each year."
Reiser also confirmed that the Wisconsin Union Theater, which reopens this fall after having closed following the 2011 Festival, could not accommodate the 2015 Festival.
If the Festival does want to expand, the only place where excess capacity can be found is near State Street: the Capitol, the Madison Museum of Contemporary Art venue that's also at the Overture, the eventually reopened Orpheum and Wisconsin Union Theater, and even historic festival venues like the Bartell and Monona Terrace. In previous years, a significant amount of the Festival budget and energy went into making those venues show-worthy because many lack modern exhibition technology, and that may be a burden the Festival has decided to walk away from for good.
The 2014 Wisconsin Film Festival ran from April 3-10, 2014.