Streaming Quick Picks: Jean-Paul Belmondo
The UW Cinematheque has just completed the 2X De Broca/Belmondo mini-series that included That Man from Rio (1964) and Up to His Ears (1965). For those craving more Belmondo (and who doesn't) this week we provide links to streaming and local resources for you to get your fix. Fans of the Cinematheque series might want to start with Cartouche (Swords of Blood, 1962), one more collaboration with director Philipe de Broca. Belmondo has been prolific across his decades-long career, so this list is far from comprehensive. But it should give you a sense of Belmondo's native French and international popularity.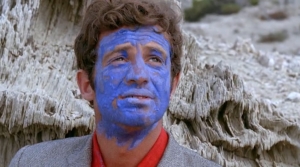 One motivation for choosing Belmondo this week is that many titles on this list will also prepare you for the UW Cinematheque's benefit screening of Jean-Luc Godard's 3D film Goodbye to Language at Point Cinemas on November 13. Almost everyone who has taken an introductory cinema studies class has probably seen Belmondo's iconic performance in Godard's Breathless (1960), but if you haven't, that certainly is a good starting point for both of them. If you've only seen Breathless, you should continue to follow their collaborations in A Woman is a Woman (1961) and especially Pierrot le Fou (1965), as Godard continues to experiment with narrative and cinematic form.
Another interesting collaboration for Belmondo has been with Jean-Pierre Melville. Once you look at other early Belmondo crime films such as Classe Tous Risques (Consider All Risks, 1960) and Les Distractions (Trapped by Fear, 1960), be sure to move on to Melville's Le Doulos (1962). Also streaming is Melville's World War II drama, Léon Morin, Priest (1961)
With the international success of the French New Wave and the rise of international co-productions, it was natural to see Belmondo attempt to crossover into the international film market. While his role in Casino Royale (1967) was small, one can see that the producers were trying to introduce him to a wider general audience. Belmondo's film with François Truffaut, Mississippi Mermaid (1969), was one of several Truffaut films produced and distributed by American studio United Artists.
As with many male stars, Belmondo has been allowed to transform his screen persona with age. For an example of Belmondo as an elder statesman of French cienema, check out Claude Lelouch's re-working of Les Misérables (1995). (Note, however, that I could only find the Madison Public Library's VHS copy of the film.)
Most of these links will take you to streaming resources, while others will take you to DVD listings at the Madison Public Library. Several are also available at Four Star Video Cooperative.