In his Cinesthesia program notes, Jason Fuhrman celebrates the near-perfect achievement of Terrence Malick's second feature, Days of Heaven.
That your days may be multiplied, and the days of your children, in the land which the Lord sware unto your fathers to give them, as the days of heaven upon the earth. — Deuteronomy 11:21
Visionary filmmaker-philosopher Terrence Malick followed his peerless debut Badlands (1971) with this exquisite, lyrical and transcendent period film set around the turn of the twentieth century. At once visually stunning and delicately crafted, Days of Heaven tells the story of a hot-tempered Chicago steel mill worker named Bill (Richard Gere) who gets in a fight with his foreman and inadvertently kills him. With his lover Abby (Brooke Adams) and his younger sister Linda, Bill boards a train and absconds to Texas, where the harvest is in progress. All three are hired as laborers in the vast, idyllic wheat fields of a wealthy but dying farmer (Sam Shepard). Masquerading as brother and sister, Bill and Abby devise a scheme to inherit the unnamed farmer's estate after he falls in love with Abby and invites her to stay.
Derived in its essence from various biblical sources, the starkly simple plot unfolds against the backdrop of an indifferent, ravishing natural landscape. A remarkably elliptical film, Days of Heaven discards straightforward narrative conventions in favor of pure cinematic poetry. As Malick poignantly juxtaposes earthly melodrama with ethereal beauty, he conveys sentiments and tensions primarily through sound and image. The director frequently turns attention away from the main characters to glimpse some peripheral phenomenon, such as a herd of buffalo, wheat fields gently swaying in the breeze, or a locust on a stalk of corn amid orange bursts of nocturnal fire. Although a fierce love triangle becomes the pulse and core of the film, the human conflicts remain equally as important as the world that envelops them.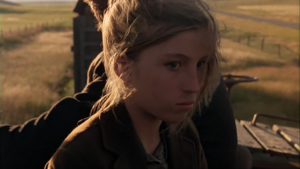 The colloquial, dispassionate and fragmented voiceover narration of Bill's actual sister (Linda Manz) shapes the prevailing tone in Days of Heaven, while offering an unusual perspective that extends beyond performance. In a candid 1979 interview with Yvonne Baby, Malick reveals that Manz "was a sort of street child we had discovered in a laundromat." Despite initial frustrations working with her, Malick believed in the mature teenage girl who gave "the impression of actually having lived this life." At once innocent and world-weary, Manz lends an almost documentary-like realism to the role with her unpolished language and her idiosyncratic interpretations of lines. Linda's voice sounds entirely genuine as her discursive interior monologue veers from trite comments to profound philosophical musings.
The idea for Days of Heaven came to Malick when he found himself alone for a summer in Austin, Texas, the town he had left as a high school student. "There were those green, undulating hills, and the very beautiful Colorado river. The place is inspired. It is inspiring, and there the film came to me all together." Malick shot the film in the wheat fields of Alberta, Canada, in 1976. He then spent two years editing the material to achieve the aura he had imagined: "a drop of water on a pond, that moment of perfection."
Whereas Badlands is a tightly scripted film, Malick deliberately adopted a looser structure on his second feature, thus allowing room for improvisation. He intended to discover the film in the process of making it, rather than in the conceptual phase of its writing. In his essay on Days of Heaven, Adrian Martin suggests, "Malick's underlying aesthetic aim . . . is to encourage the proliferation of a wide range of moods, sights, sounds, and surface textures, while simultaneously arriving at an overall, unifying form."
Before filming began, Malick outlined a set of stylistic principles that each member of the crew had to follow, the most basic of which was to remain as faithful to reality as possible. The director worked closely with his collaborators, who included art director Jack Fisk and costume designer Patricia Norris. Fisk designed and built the mansion among the wheat fields, as well as the smaller houses where the farmworkers were supposed to live. He constructed an actual mansion, inside and out, rather than just a façade, as is customary. Blended, fairly subdued colors were chosen for the set, props, and costumes, while Norris found used fabrics and vintage clothes to avoid the synthetic look of studio-made outfits.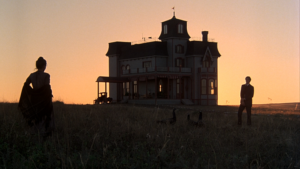 Above all, Days of Heaven stands as one of the most visually beautiful films ever made. Its unforgettable images owe a considerable debt to cinematographer Néstor Almendros, who earned an Academy Award for his work on the film. In his 1984 autobiography, A Man with a Camera, Almendros recalls how Malick encouraged him to use hardly any studio lighting. His job was essentially to simplify the photography and purify it of any artificial effects. To that end, he modeled Days of Heaven on the silent films of Griffith and Chaplin, among others, which often used natural light. Almendros also cites several influences from painting, such as Johannes Vermeer, Andrew Wyeth, and Edward Hopper. As the credits show, he and Malick were particularly inspired by the great photo-reporters of the turn of the century.
According to Almendros, "As a general rule, nature's most beautiful light occurs at extreme moments, the very moments when filming seems impossible." At the insistence of Malick, certain scenes of the film were shot at the "magic hour," the period between sunset and nightfall, which lasts about twenty minutes. Capturing this window of luminosity was certainly an artistic feat and the results are otherworldly. As Almendros explains, "For those few minutes the light is truly magical, because no one knows where it is coming from. The sun is not to be seen, but the sky can be bright, and the blue of the atmosphere undergoes strange mutations." Far from empty aestheticism or gratuitous formal experimentation, these scenes embody the sense of impermanence that pervades Days of Heaven.
A masterful evocation of fleeting moments and elusive happiness, as well as a richly textured, enchanting sensory experience, Malick's luminous classic defines his singular approach to the art of film. In the words of Adrian Martin again:
Malick is a true poet of the ephemeral: the epiphanies that structure his films, beginning with Days of Heaven, are ones that flare up suddenly and die away just as quickly, with the uttering of a single line (like "She loved the farmer"), the flight of a bird or the launching of a plane, the flickering of a candle or the passing of a wind over the grass. Nothing is ever insisted upon or lingered on in his films; that is why they reveal subtly different arrangements of event, mood, and meaning each time we see them.
With its lustrous, impressionistic compositions, heightened authenticity, deftly suggestive editing, and haunting, elegiac score by Ennio Morricone (which literally inverts the melody of Camille Saint-Saëns' "Carnival of the Animals"), Days of Heaven elevates filmmaking to the realm of pure cinema, while firmly planting viewers in a faraway time and place. Although indeed nobody's perfect, such an enduring and universal work of art comes about as close to perfection as one could hope for. Perhaps this explains why Malick disappeared from the film world for twenty years until he resurfaced with The Thin Red Line (1998).