Attend: Program Notes
La dolce vita | Federico Fellini | Italy | 1960 | 174 minutes
An expansive, flamboyant and all but apocalyptic look at the underbelly of café society, Federico Fellini's La dolce vita captures the alluring emptiness of our image-saturated consumer culture nearly sixty years after its premiere.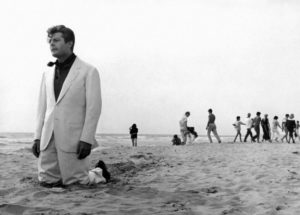 A cinematic icon of the 20th century and a turning point in the career of Federico Fellini, La dolce vita marks the transition from his early neorealism to the seamless blend of reality and dreams that defines his later work. The film also presents a snapshot of Roman life at the very moment when Italy was shedding its rural past and becoming a turbulent industrial nation. Fellini's picaresque, ultramodern, visually extravagant, and improbably entertaining tragicomedy peers at the underbelly of café society, the glittery, glamorous world built upon the ruins and deprivation of the postwar era. A rich mosaic of interrelated episodic fragments, La dolce vita follows the adventures of a prominent celebrity journalist (Marcello Mastroianni) who has abandoned his literary ambitions to report on the decadent lifestyles of Rome's wealthy and famous. Among the most prescient of all films, La dolce vita depicted the type of mass-media dominated culture that now pervades the entire globe before it actually existed in Italy.
Initially Fellini had a completely different kind of film in mind. He intended to follow up his semiautobiographical masterpiece of sharply drawn character sketches, I Vitteloni (1953), by focusing on Moraldo, the one member of the film's quintet of lower middle-class young men who actually escapes his small coastal hometown. The director wanted to situate him in the bohemian milieu of Via Veneto, which in the 1950s was the heart of Rome's intellectual life, where the literati gathered. But as Fellini was reworking the screenplay of Moraldo in città (Moraldo in the City), he and his collaborators soon realized that the Rome they had planned to depict had been replaced by another city, more frenetic and cosmopolitan. The cafés of Via Veneto were no longer solely the late-night haunts of writers who had migrated from the provinces, but the domain of the many foreign stars who came to work and play in Italy's booming film industry. A sort of street party exploded that would rage for several years on Via Veneto. As photographers morphed from witnesses of reality to participants in and creators of it, Fellini found a new source of inspiration in this phenomenon. Therefore, he decided to tell the story of what was happening around him in a deliberately fragmented series of episodes. Fellini told his screenwriters: "We have to make a Picasso sculpture, smash it, then put it back together the way we want it."
La dolce vita consists of fifty scenes that combine to tell seven stories: Marcello's brief encounter with the heiress Maddalena (Anouk Aimée); his wild night with the Swedish movie star Sylvia (Anita Ekberg); his relationship with the detached intellectual Steiner (Alain Cuny); the false miracle; the sudden arrival of Marcello's estranged father; the aristocrats' party in an old castle; and the so-called orgy. These principal episodes are punctuated by three shorter interludes and framed between a prologue (wherein an enormous statue of Christ, carried by a helicopter, flies over Rome) and an epilogue (during which fishermen on the beach find a monstrous sea creature in their nets) that are symbolically symmetrical. Throughout this dazzling succession of empty nights and lonely dawns, Fellini reveals the spiritual desolation lurking behind the façade of a perpetual carnival, even as he revels in the lavish spectacle.
While La dolce vita seems particularly susceptible to facile moral interpretations, the film ultimately amounts to something more complex and ambivalent than either a luridly sensational exposé or a scathing indictment of celebrity culture. Fellini clarifies his purpose in a 1966 interview with Playboy:
What I intended was to show the state of Rome's soul, a way of being a people. What it became was a scandalous report, a fresco of a street and a society. But I never go to Via Veneto—it isn't my street. And I never attend festas of aristocrats—I don't know any. The left-wing press played it up as headline reportage on Rome, but it didn't have to be Rome; it could have been Bangkok or a thousand other cities. I intended it as a report on Sodom and Gomorrah, a trip into anguish and despair. I intended for it to be a document, not a documentary.
His original intention in the film's title has also been misunderstood. "It was taken more ironically than I meant it," the maestro remarks in Charlotte Chandler's book I, Fellini. "I was thinking of 'the sweetness of life' rather than 'the sweet life.'" La dolce vita portrays the seductive fascination of café society as well as its inherent vacuity, thus inviting a broad range of diverse interpretations. And since an artist always creates more than they are aware of, Fellini's film has acquired a life of its own over the years.
For instance, when Fellini came up with the name in 1959, he had no idea "paparazzo" (or "paparazzi") would become a word in numerous languages. "Someone told it to me," he recounts in Chandler's book, "and it sounded just right for our soulless photographer, who is more of a camera than a man." Also, a popular and respected American dictionary actually lists "dolce vita" as an English phrase since 1961, defined as "a life of indolence and self-indulgence." While La dolce vita premiered nearly sixty years ago and it may no longer be shocking to viewers, the film still resonates with the alluring emptiness of our contemporary globalized mass consumer culture. In his essay on La dolce vita, critic Gary Giddins writes,
Time has sustained La dolce vita, setting loose themes that underscore twenty-first-century dilemmas that were of little or no consequence in 1960. Just as we are more likely now to register how funny it is and how tidily structured, we can hardly fail to see how it augurs our obsessions with the loss of privacy and the rise of virtuality, the deadening of the senses and the addiction to technology, the corruption of media, the lust for fame, and the waning of lust when acculturation trumps individual agency. It is now a more humanistic film too, because, having been there and done much of that, we know its people more intimately than did the first generation of viewers, who were gawkers at and not survivors of the spectacle.
With one bravura set piece after another, La dolce vita creates a nearly apocalyptic vision of its time and confirms Fellini as "a craftsman who has nothing to say but who knows how to say it," in his own words.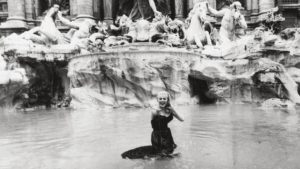 The film's dilated, baroque imagery, audacious approach to narrative, skillfully unified design, and fundamental ambiguity forever altered the look, style, and reach of movies. But the influence of La dolce vita extends far beyond the cinema. Such is the film's aesthetic appeal that images and scenes from it continue to be copied and recycled in magazine articles, fashion spreads and advertisements. Moreover, the film's lucid examination of the complex relationship between images and reality has become increasingly relevant amid the accelerated distribution of tabloid journalism in the hyperkinetic techno-industrial grid of this new information age. La dolce vita vividly captures the phenomenon of what Daniel Boorstin, in his 1962 book The Image, calls a "pseudo-reality," that is a parallel world composed of movie stars, images of high society, media events and publicity stunts that bear little obvious relation to everyday life. Since then, the world has changed dramatically and this "pseudo-reality" has perhaps become even more real than so-called real life for a lot of people. Fellini's masterpiece endures as a film about pure disillusionment and the meaning of La dolce vita depends on how you look at it, just like life.