Attend: Program Notes
Monsoon Wedding | Mira Nair | India | 2001 | 114 minutes
An ebullient, richly textured and visually spectacular meditation on love, Mira Nair's Monsoon Wedding unites high production values and low-budget ingenuity, while sweeping us into the choreographed chaos of its colorful world.
"I want my films to explode with life." — Mira Nair
Among the few female filmmakers to flourish in a profession dominated by men, Indian-born and Harvard-educated auteur Mira Nair came to most viewers' attention with her dazzling first feature, Salaam Bombay!, in 1988, the rare debut to be nominated for an Academy Award (as best foreign-language film). Her internationally acclaimed films blend a distinctively sumptuous visual style with a genuine concern for difficult social issues, while focusing on identity politics in the era of globalization.
Intoxicated with a love of life, or what she calls masti, Nair clearly expresses the feeling of pure joy in her vivid and colorful pictures, but she also does not shy away from the harsh realities of human existence. "I seek the truth," she has declared forthrightly of her motivation in making films. Often working briskly and with very modest funds, Nair has maintained an exceptional degree of artistic freedom and creative integrity throughout her illustrious career. In late 2004 she boldly turned down an offer to direct the fifth installment in the Harry Potter franchise. That same year, she was honored as a recipient of a Maverick Award at the Woodstock Festival. In the words of festival director Meira Blaustein, Nair "fearlessly combines independence and risk-taking with social consciousness and continues the tradition of those who make feelings visible and who make sense out of sensations, who shine light on darkness."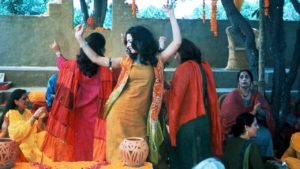 Nair's greatest cinematic success and one of the top ten highest-grossing foreign films in U.S. history, Monsoon Wedding depicts four tempestuous and exciting days in the life of a modern upper-middle-class Punjabi family preparing for the arranged marriage of their only daughter, Aditi (Vasundhara Das). As the large Verma clan gathers in New Delhi to celebrate the festive occasion, Nair plunges viewers right into the middle of this vibrant, bustling, and multihued world. She seamlessly weaves together manifold plots and genres to create a dense, elaborate and richly textured tapestry that envelops us in its warmth and conviviality, while also giving us room to breathe.
Aditi carries on an illicit affair with a married TV host; she has never met her husband-to-be (Parvin Dabas), a non-resident Indian living in Houston; Aditi's financially troubled father, Lalit (Naseeruddin Shah), constantly worries about expenses; and her cousin Ria (Shefali Shetty), an aspiring writer, courageously exposes a shameful family secret, thus compelling Lalit to make a tough decision. Meanwhile, Aditi's young cousin Ayesha (Neha Dubey) starts a steamy romance with Rahul (Randeep Hooda), a visitor from Australia, and the upwardly mobile, somewhat shifty, but earnest, event planner P.K. Dubey falls in love with the humble servant girl Alice.
At once a vividly realistic portrait of family life, a provocative look at cultural cross-pollination in India, a love letter to Nair's Punjabi people, and a ravishingly intimate cinematic experience, Monsoon Wedding sweeps us into the choreographed chaos of a particular time and place, yet it feels remarkably universal. Despite the film's personal nature, Monsoon Wedding ultimately transcends national boundaries and celebrates the human condition, while incorporating a broad range of diverse influences and references.
"My influences in making films are eclectic," Nair reveals. "I am great fan of Indian cinema, like the films of Raj Kapoor. But equally I was a student of [D.A.] Pennebaker. He was my mentor and taught me the extraordinariness of ordinary life—how to see it and how to surrender to it and how to be humble to it. My influences go from the cinema verité to Bollywood to photography. [John] Cassavettes is the foundation of the belief in the meandering camera. While I was shooting, there was one movie I looked at all the time—Federico Fellini's La Dolce Vita, mostly to show my crew how to choreograph madness."
Although Nair's spectacle has been called a Bollywood movie, Monsoon Wedding actually has more in common with American independent filmmaking than with India's thriving commercial film industry. Written in three languages (Punjabi, Hindi and English), shot by a predominantly American crew on Super 16mm, cast with actors from Indian television, film and theater, and scored by a Canadian composer (Mychael Danna) with pulsing music selections that jump from pop to traditional folk songs, Monsoon Wedding embodies a truly international cinematic style that speaks to audiences everywhere.
"For many years," Nair explains, "India has received influences from others—first the British, and now American globalization. But if there is one place that can stand up to cultural imperialism, it is probably India. We can beg, borrow, assimilate, steal all of these influences and still make something distinctly Indian out of it." Featuring unforgettable imagery, Declann Quinn's expressive vérité photography, Allyson C. Johnson's kinetic, rhythmic editing, an audacious, multilayered script by one of Nair's students at Columbia University (Sabrina Dhawan), and an array of brilliant, appealingly human performances, Monsoon Wedding represents the marriage of high production values and low-budget resourcefulness.
Made for only $1.5 million, the film underwent a dramatic development phase before production began. Monsoon Wedding originated with Dhawan, a young Punjabi writer who bumped into Nair at Columbia. They had tea at a café and Dhawan gave Nair a copy of the script for a short Hindi language student film entitled Saanjh (As Night Falls), which would earn her a "Best of the Festival" prize at the Palm Springs International Short Film Festival in 2000.
Nair called Dhawan the next morning to tell her that she loved it and that they should collaborate on something. Then Dhawan left for India to get her short film made and Nair went to shoot a movie set in Bombay that she didn't end up making. At the time, Nair and Dhawan had only met once, but they communicated via e-mail over a period of months. "I was keen to do something set in a middle-class family that also dealt with sexual abuse, set in Delhi," Dhawan recalls. "Mira wanted to do something during a wedding. So I put those two ideas together, but I couldn't start writing it then, because I was so busy with my short and Mira was in India getting her movie ready."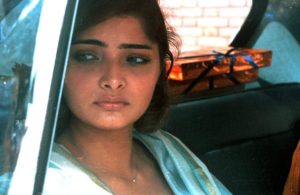 Professor Nair happened to move to New York just as Dhawan returned from India and commenced editing Saanjh. The two met intermittently to discuss different film projects, but nothing concrete. Then Dhawan very quickly created a first draft of what would become the script for Monsoon Wedding in a writing class. "I wrote it because I had to have something ready for the class, and I'd been thinking about the movie," she says. "The professor of that class told Mira that I had written the script, and Mira asked to see it." However, Dhawan was reluctant to share her script with Nair because she had written it in such a hurry and it was only a rough draft. Nair insisted and instantly responded to what she read because, as Dhawan has stated, it reveals the "other side" of India, the modern, globalized perspective.
In developing the screenplay, Dhawan found Nair to be a very supportive collaborator. They agreed on the importance of absolute honesty and this commitment manifested in several difficult choices early on. For instance, an all-English film would most likely draw a larger audience than a subtitled film since the latter does not perform as well in the United States. But Nair told Dhawan, "Just be honest." Dhawan also got nervous about portraying a bride who has an affair the night before her wedding because of traditional sexual mores in India. "I thought, 'God, they're going to kill me!'" she remembers.
Even before the script was finished, Nair secured financing for Monsoon Wedding from international partners by selling the idea of a film that could be made in a short span of time, using minimal money and resources, with an emphasis on story and performance. According to Nair, "It wasn't, 'Let's make a movie that will sell all over the world,' but rather, 'Let's make a movie in 30 days, and keep a lean budget, so the film would be purely about the act of making it.' This was a radical approach for Bollywood." Attending the Cannes Film Festival, she pitched the project as "a meditation on love."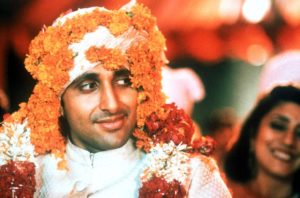 Initially the movie was going to be shot on digital video, but Nair soon realized that this medium would be ill-suited to capturing the beauty, splendor, and radiant colors of an Indian wedding. Shooting on film required more money and Nair quickly sought new financial aid for her project. But with more financial backers also came more creative partners, and that meant some trepidation about the film, which featured a subplot about child molestation. "When we were pitching the story, and then when I had a proper first draft and people read it, there was some concern that the tones wouldn't mix," Dhawan recounts. "You know, it was a lighter romantic film and this very dark element comes in, and how do you get an audience to bounce back from that revelation and then celebrate the wedding and feel happy in the end? So there was concern about that. It was unnerving to wonder whether it would really work."
Despite investor misgivings about the serious subplot, Nair retained it in its entirety and Monsoon Wedding was officially approved for a higher budget. But the strict limitations on the shooting schedule would remain. Nair's film was going to be shot in thirty days, in spite of hell or high water. This would prove especially challenging since the script included nearly seventy characters and several big set-ups. Some plot lines were pared down before shooting to ensure that the impossible could be accomplished. The large cast rehearsed for two weeks in a workshop so filming, once begun, could be achieved quickly.
Regardless of all the elaborate preparations, the shooting in New Delhi in late summer of 2000 turned out to be something of a pandemonium. "We had sixteen-hour days, and because of the weather in August, it was extremely hot, and everything was going wrong, as it always does on a tough shoot," Dhawan remembers. The renowned choreographer Farah Khan was recruited to create the climactic wedding dance. But the scene had to be shot in a mere three hours and required two hundred extras.
Meanwhile, in the United States, Allyson C. Johnson received footage of the work in progress and began the job of editing Monsoon Wedding. "Normally I have the first cut of the movie when the director finishes shooting, but because part of the film was in Hindi, it was taking me a little longer," she recalls, "and I needed Mira for some scenes that were all Hindi." When shooting was completed and Johnson reviewed the remainder of the footage, she discovered that three hundred minutes of film had been damaged by a New York airport X-ray machine. The damaged footage amounted to five full days of shooting, or one-sixth of the movie's entire schedule, and consisted mostly of the dance sequence, filmed at a pool belonging to one of Nair's friends. Alas, they were not able to re-shoot that particular scene because the pool was no longer available. "It basically looked like a big xerox," Johnson said of the damage. Although she salvaged what she could, some sort of re-shoot was obviously going to be necessary. But by this time, the entire crew had disassembled and the actors had gone their own ways.
Nevertheless, with the insurance money collected from the X-ray accident, Nair was able to re-stage some of the lost scenes on a hurried re-shooting spree in India three months later. Four scenes were redone, and the money from the mishap actually afforded Nair the serendipitous opportunity to feature a Hollywood-style deluge for several shots, thus bringing the monsoon of the film's title to glorious life. Insofar as the turbulent production of Nair's picture parallels the dramatic events in Dhawan's narrative, Monsoon Wedding may be viewed as a film about its own making. Just like the characters in the movie, the cast and crew confronted multiple hitches, on top of a crisis, but everything finally came together.
Monsoon Wedding had a staggered opening internationally, starting with Italy on August 30, 2001, and Canada in September. In fact, it played at the Toronto Film Festival on September 12, just a day after the terrorist attacks on New York City and Washington, D.C. Its premiere was supposed to be September 11.
Notwithstanding the unfortunate date of the film's debut, Monsoon Wedding triumphed in the end. Nair's work won the Golden Lion Prize at the 58th Venice International Film Festival in 2001, the first Indian-made film to claim that honor since Satyajit Ray's Aparajito (The Unvanquished) in 1957. Only the second female director in history to receive the award, Nair accepted it in person, declaring that it was for "beloved India," her "continuing inspiration." Monsoon Wedding played to packed theaters in the United Kingdom when it opened there on January 4, 2002, leaping into the top twenty film list. It opened in the United States on February 22, 2002 and eventually earned nearly fourteen million dollars.
The critics were as laudatory as general audiences. Writing for Newsweek, David Ansen stated that Nair's "stereotype-shattering movie—like the polymorphous culture it illuminates—borrows from Bollywood, Hollywood, cinema vérité, and comes up with something entirely its own." Variety's Deborah Young called it "an unrepentantly cross-cultural crowd-pleaser." Reviewer Joseph Cunneen told his readers in National Catholic Reporter, "The most colorful and entertaining movie invitation in recent months is to New Delhi to attend Monsoon Wedding." Roger Ebert praised it as "the kind of film where you meet characters you have never been within 10,000 miles of, and feel like you know them at once."
Monsoon Wedding certainly remains relevant today. As critic Cynthia Karena notes, the film challenges "our assumptions about Indian culture." According to the American Prospect's Adina Hoffman, Monsoon Wedding signifies "nothing short of an ode" to India's "particular brand of freewheeling hybridization." In the film, Nair "fondly depicts a country where old and new cultures exist side by side," writes Moira McDonald for The Seattle Times, "where traditional music can be drowned out by ringing cell phones."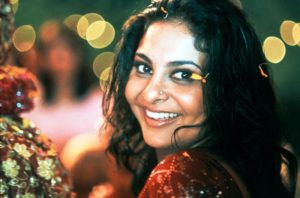 With its lush visual palette, energetic style, daring authenticity, and elegant cinematic inventions, Monsoon Wedding survives as a timeless celebration of life, love, differences, and pure filmmaking. Nair achieves a delicate balance between disparate moods and genres, while furtively exploring themes of national and personal identity. She exhibits astonishing fluidity as she intertwines melodrama, romance, comedy, and tragedy with reflections on class conflict, gender politics, globalization and sexual morality.
Critic and travel writer Pico Iyer, in his essay on Nair's film, writes, "Part of the particular beauty of Monsoon Wedding is that it looks unflinchingly at painful social issues while still keeping up its infectious energy. . . ." He points out Nair's "gift for bringing together different classes, for dramatizing human emotions in scenes of beautifully lit, tender seductiveness, for telling stories without words." Monsoon Wedding exemplifies her eclectic, freewheeling sensibility, her rich vision of life, her cross-cultural social acumen, and her humanist approach to cinema. In a post-9/11 world, Nair's ebullient, luminous and compassionate creation reminds us that we are all the same under the skin, that different types of love are possible, and that seemingly incompatible elements can co-exist harmoniously in art, as well as life.