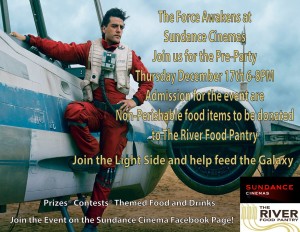 Attend: One Night Only
Sundance Cinemas STAR WARS Premier Pre-Party, Benefit for River Food Pantry
Sundance Cinemas will transform the buzz surrounding the opening of Star Wars: The Force Awakens next week into an opportunity for holiday goodwill by hosting a pre-screening party and food drive to benefit the River Food Pantry. The party begins December 17 at 6:00pm on Sundance's second floor, just before the first Episode VII screenings.
Donors of non-perishable food items will be granted admission to the party, which will feature contests, prizes, food and drink specials, and a live performance by Figrin D'an and the Modal Nodes. Okay, we're joking about Figrin D'an, but we're not joking about this great idea from the folks at Sundance. For more information, check out their Facebook event page.
According to its website, the River Food Pantry is Dane County's busiest food pantry:
Located in a warehouse just off Northport Drive and Packers Avenue, The River is surrounded by low-income neighborhoods and subsidized senior housing—exactly where we're needed the most.

More than just meals, The River provides a warm and welcoming family atmosphere where everyone is treated with respect, encouraged to find the support they need, and given the opportunity to share what they can with others.

The River feeds more than 600 Dane County families per week, going through 35 thousand pounds of food every seven days, or about 1.8 million pounds of food each year.
The River Food Pantry is located in a converted warehouse at 2201 Darwin Road, just off Northport Drive and Packers Avenue. For more information about the organization, check out their website or email them at river@riverfoodpantry.org