Attend: Program Notes
Sunset Boulevard | Billy Wilder | United States | 1950 | 110 min.
A sensational Hollywood story of ambition, fame, greed, and narcissism, Billy Wilder's classic Sunset Blvd. reveals the dark side of Los Angeles' dream factory, while seducing us with the power of its own manufactured images.
"Sunset Boulevard just has the greatest mood; you're immersed in it like a dream. It catches a Hollywood story that connects the golden age of Hollywood with the present day. But it's a truthful movie, and so it carries through to today. It has a lot of sadness in it, and beauty. And mystery. And dreams. Beauty, beauty, beauty and more dreams." — David Lynch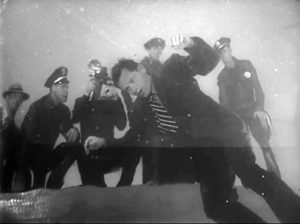 From the unforgettable opening sequence to the famous closing line, Sunset Boulevard continues to captivate viewers as a work of cinematic art in which all of the elements are masterfully coordinated. Billy Wilder's bizarre, sordid story of a washed-up, delusional silent film star preparing for a magnificent comeback has circulated through popular culture and influenced our collective consciousness like few other pictures have. A scathing, incisive critique of the Hollywood studio system, Sunset Boulevard ironically remains the most acclaimed movie ever made about the movies. Yet Wilder's classic, self-reflexive film noir is not just about Hollywood, the way Fellini's La dolce vita is not only about Rome.
William Holden plays Joe Gillis, a down-and-out hack screenwriter struggling to pay his bills and succeed in Tinseltown. While evading two men from a finance company who are trying to repossess his car, Joe stumbles upon a dilapidated old mansion on Sunset Boulevard and hides the vehicle in an empty garage. He then enters the house, where a stoic butler named Max (Erich von Stroheim) brusquely orders him upstairs, mistaking Joe for a mortician who is due to arrive with a coffin for a deceased pet chimpanzee.
Joe soon realizes that he has come into the residence of Norma Desmond (Gloria Swanson), an aging, reclusive actress who was prominent in the 1920s and still clings to her former glory. When he reveals his profession, she excitedly announces her plans for a grand return to the silver screen. Norma offers to accommodate him and employ him to edit a lengthy script she has written about the Biblical figure Salomé. Desperate for money, Joe reluctantly accepts Norma's proposal and thus becomes entangled in a dangerously perverse relationship with the silent film queen as her megalomania reaches a fever pitch.
With sardonic wit and dreamlike fluidity, Wilder introduces multiple levels of reality as he meticulously exposes the underbelly of Los Angeles' dream factory. Sunset Boulevard draws significantly from life, blending fiction with the bitter truths of filmmaking to create a vivid, hard-hitting portrait of Hollywood.
Swanson was fifty-one when she shot Sunset Boulevard. Although her film career began in 1915, she became famous in the 1920s, working frequently with director Cecil B. DeMille at Paramount. Swanson left the studio in 1928 to produce her own films, but she lost a substantial sum of money on Queen Kelly (1929), an extravagant production directed by Erich von Stroheim, who was fired by Swanson in mid-production because of his excesses. A portion of that film, which was not released in the United States, is shown in Sunset Blvd. when Joe and Norma watch one of her silent classics on a private movie screen. Over one hundred early photographs of Swanson at the height of her career are also seen in Sunset Blvd.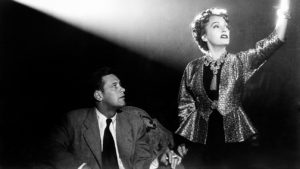 Although Swanson, unlike Norma, made a successful transition to sound films, she retired in 1934, and performed in only one movie before starring as Norma Desmond. Von Stroheim, originally an actor, became a renowned director, his most famous film being the severely edited masterpiece Greed (1925). Sunset Blvd. marks the first film in which von Stroheim and Swanson worked together since Queen Kelly. The casting of von Stroheim as the once-great silent director now reduced to working as the faithful butler of the woman he discovered and was married to feels particularly inspired, considering the fact that he directed only two sound films and ended up playing parodies of himself in other people's films.
Like von Stroheim, Cecil B. DeMille was a director well-known for making extravagant films of epic proportions. He appears as himself in Sunset Blvd. on the set of Samson and Delilah (1949), which he had actually completed a few months before Wilder's film began shooting. When Norma visits DeMille at Paramount, the director calls her "little fellow," which is what he always called Swanson in real life.
Aging silent era stars also portray themselves as Norma's card-playing friends in Sunset Blvd., including the great Buster Keaton, Swedish-born Anna Q. Nilsson, and H.B. Warner, who played Jesus in DeMille's The King of Kings (1927). Norma Desmond's name was derived from silent comedienne Mabel Normand and her husband William Desmond Taylor. Tragically, the latter was murdered in 1922 under mysterious circumstances in what became one of the most notorious Hollywood scandals of the silent picture era.
The film's working title was A Can of Beans. Sunset Boulevard originally opened with a scene in the Los Angeles morgue, where Joe Gillis's body has been deposited, and closed with another morgue scene. In the original opening, Joe sits up from his slab and converses with the other cadavers before narrating his own story. When audiences laughed at this scene during a preview screening, the film's release was delayed by six months and it was replaced with the underwater shot of Joe's corpse floating in the pool.
In the summer of 1950, not quite sure what they had on their hands, Paramount put on a big preview of Sunset Boulevard on the lot. By invitation only, they brought in most of the leading figures in the movie industry. Many people were taken aback, but one person spoke out: Louis B. Mayer, the West Coast head of Metro-Goldwyn-Mayer. "You bastard," he said to Wilder. "You have disgraced the industry that made you and fed you. You should be tarred and feathered and run out of Hollywood."
Within one year, Mr. Mayer had been fired by Metro. Wilder's film had opened to outstanding reviews and box-office success. It was named "Best Picture of the Year" by the National Board of Review. The Hollywood Foreign Correspondents Association awarded Sunset Blvd. a "Golden Globe" for best picture, as well as one to Wilder for best direction, and an award to Swanson for her performance. Sunset Blvd. won Academy Awards for Best Writing (original story and screenplay), Best Art Direction (black & white) and Best Music (scoring dramatic or comedy picture), and received the following Academy Award nominations: Best Picture, Best Actor (von Stroheim), Best Supporting Actor, Best Actress, Best Supporting Actress (Nancy Olson), Best Cinematography (black & white), Best Directing and Best Film Editing.
Sunset Blvd. was purportedly the last major American feature film to be photographed on nitrate stock.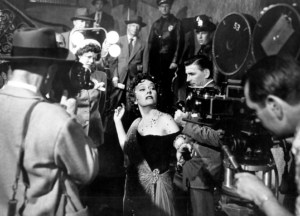 While most people may remember Sunset Blvd. for its iconic performances and its endlessly quotable dialogue, perhaps the most shocking thing about Wilder's classic today is that it was a studio picture, from Paramount, paid for and endorsed by the very system that it so fiercely attacks. With its abstract atmosphere, brilliant execution, evocative visual design, astute observations, and furtive meta-cinematic touches, the film captures the alluring emptiness of an industry that traffics in manufactured dreams. Wilder dares to show Hollywood in a harsh light, even as he uses a variety of technical and stylistic tricks to craft the ultimate Hollywood product. In the words of Roger Ebert, "Sunset Boulevard remains the best drama ever made about the movies because it sees through the illusions, even if Norma doesn't."