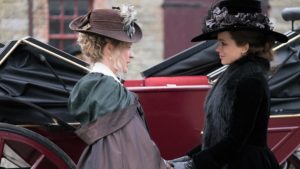 Discuss: Wisconsin Film Festival
Jake Smith reflects briefly on the films he saw in the second half of the 2016 Wisconsin Film Festival, including a pair of pictures with Ingrid Bergman and the newest from Whit Stillman.
As is so often the case with the second half of the Festival, my reach exceeds my grasp when it comes to the number of movies I want to see. Circumstances kept me from seeing a few films, particularly Men & Chicken, which I very much wanted to see as a Mads Mikkelsen fan.
In the spirit of continuing my venture into "restorations and rediscoveries" territory, I made sure to catch the Rossellini/Bergman collaboration and its accompanying documentary. "Love" was clearly in the air on closing night, and while The Love Witch intrigued, the call of Whit Stillman's mannered dialogue in Love & Friendship was too strong to ignore. As with my "midway" post, I have provided my reactions to the films below; plot summaries can be found by clicking on the titles.
Stig Björkman | Sweden | 2015| 112 min
About a quarter of the way into this film, there is a photograph of Ingrid Bergman on a wrecked street in a broken bathtub. It is one of the most striking images in the film, and there is some stiff competition on that score. Crouching in the bathtub on the street, she is smiling a characteristically luminous smile. Ms. Bergman is, here, radiance amidst ruin. I found this film's portrait of Bergman to be more even handed and thoughtful than I would expect from the standard biographical piece, and much of that derives from the film's frankness. As are her words, so too are her children's words about their mother—frank, thoughtful, and most of all, understanding. I find myself increasingly suspicious of modern documentaries, which all too often seem to present footage that is merely assembled instead of edited. Björkman's film doesn't fall into this trap, with a host of photographic montages that are quite affecting. My problem with the film revolves around the score, or more to the point, how the score is used. Michael Nyman's music for the film is lovely in and of itself, but Björkman overuses it to the point where its beauty becomes almost insipid, detracting from the inherent grace and gravity of the images. It would also have been interesting to hear some of the responses to Bergman's letters to her friends, but that would, of course, take away from the point of the film. Her Own Words give quite a complete and complex portrait of a cinema legend.
Roberto Rossellini | Italy | 1952 | 109 min
In a way, I wish I had had the opportunity to see these films in reverse order, or apart from one another. With so much of the film's story precipitated by Bergman's character's role as a mother, I kept viewing parts of Europe ' 51 through a biographical lens rather than focusing on the story itself. I also walked into this program with a fair amount of curiosity and a little trepidation, because I have always appreciated Rossellini's films without ever really connecting with them. This film changed that; it was simply stunning. Aside from the outstanding cinematography and the way Bergman glides in and out of frame, I was struck by the ways in which her character's humanity is caught between—and ultimately transcends—politics and religion, gender roles and bureaucracy. For those of you who only know Ingrid Bergman from her Hollywood period, I would urge to you watch this film as soon as possible. Along with Autumn Sonata, it is one of the truest showcases for her talent that I have ever seen. Despite its dourness in several parts of the film, and some unfortunate laughter from the audience at some of the more period-specific sensibilities of the story, Europe '51 was a genuine pleasure to watch.
Whit Stillman | USA, The Netherlands, Ireland, France | 2016 | 94 min
There are some writers whose words make me wish that we all talked like they write. Names that immediately spring to mind are Aaron Sorkin and the three Davids (Mamet, Milch, and Simon). I would add Whit Stillman to that list, whose characters often speak with an undeniable pretentiousness that inexplicably manages to come off as charming instead of pompous. The dialogue in his latest film, to some degree, initially feels like it owes more to the period and the milieu than his other films. That wears off, though, and you begin to feel like you are less in a Jane Austen adaptation and more in a Whit Stillman film. As with The Last Days of Disco, the best parts of this film are the interactions between Kate Beckinsale and Chloë Sevigny. Beyond the enjoyable cattiness of their conversations, there is something ineffably entertaining about their on-screen pairing. I wouldn't say the film is as rich an experience overall as some of his previous work, but it is a delight nonetheless. If for no other reason, see this film for Tom Bennett's amiably daffy performance as Sir James Martin. Playing a good-hearted buffoon, I can only describe his performance by saying that I felt as though I was watching Colin Firth by way of Jim Nabors. For those of you who missed the two closing night screenings, I do hope it comes back to town at some point. It used to be a sure thing that some of the more notable indie films would come back to Madison, but with the first-run theaters shrinking in number over the years, so too has shrunk the likelihood of those films' return to local screens.
Be sure to let us know what you thought of these films and any others that you saw in the comments section below. Let me close by expressing my gratitude to the programmers, to the volunteers, to all of those individuals who work to bring the Festival to the Madison area every year. And for more thoughts on this year's Festival, be sure to check out my colleague James Kreul's first installment of a two-part wrap-up to the fest.