Transformers: Age of Extinction and 22 Jump Street
Saturday, June 28, Meetup at 7:00 (Maduro, 117 East Main Street)
The Madison Film Forum wants to caravan to drive-in theaters once a month this summer. The June edition will be to the Highway 18 Outdoor Theater on Saturday, June 28 for Transformers: Age of Extinction and 22 Jump Street. (These titles are now confirmed at the Highway 18 Outdoor Theater website.)
At the Facebook Event Page will update this event through the week with details such as confirmed movie titles, weather forecasts (we will go rain or moonshine), and firm departure times. But the basic idea will be: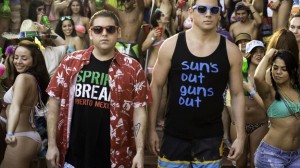 Meet at Maduro (117 East Main Street) around 7:00 and leave sometime after 7:30. If you're looking for a ride let us know by posting on this event page.
If you want to meet us at the theater, it is located at the corner of Highways 18 and 89. Box Office opens at 6:30, and the show begins at Dusk.
The Madison Film Forum wants you to stream one great film every week, attend at least one great film every month, and meet people doing the same. We don't sponsor these screenings, we just support them by showing up.
Below I have embedded a map of the route we will use leaving from Maduro and avoiding John Nolan Drive / Rhythm and Booms on Saturday night.