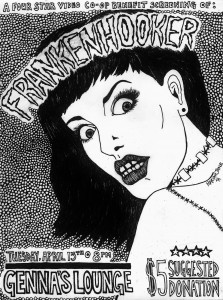 Four Star Video Co-Op Benefit Screening of
(Frank Henenlotter, USA, 1980, 85 min.)
Genna's Lounge, Tuesday, April 15 at 8:00pm.
$5 suggested donation
More information at their Facebook Event Page.
The Four Star Video Heaven Facebook page posted the following from Derek Hain:
Cinema needs preservation. But cinema is not merely film or digital video. It's not the distribution of images and sounds. Cinema is a cultural artform. Its existence depends on a culture that can perceive its language, judge its worth, and form communities around its appreciation.

When I was a child, the local video rental stores were exciting places. The various aisles all held different sorts of surprises. Each video case showed strange new people in strange new places, and the synopses fired up my imagination. I could always expect to see a few minutes of some unknown movie while I waited in line with the video I'd chosen. The video store clerks, by simply working around so many videos, seemed to hold some esoteric knowledge about cinema. Eventually, I worked at a video store myself.

Nowadays, people often think video stores are founded on an obsolete business model. But this is a cynical attitude. Independent video stores aren't strictly business; many are primarily regarded as cultural hotspots, havens for adventurous film watchers, and beloved respositories of serious, moving artistic work. We certainly stand to lose such a thing if we lose Four Star Video Heaven; and, all the more, in Four Star Video Heaven Cooperative, we stand to gain a new kind of video store, a store more aware of its cultural role in the community.