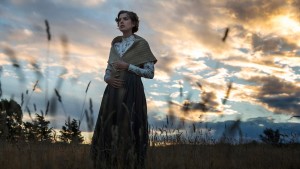 Festival Buzz: Part One of Three
Film Guide print version available in this week's Isthmus.
Box Office Opens Saturday, March 19 at 12:00pm: Union South Box Office and at wifilmfest.org/2016.
Madison Film Forum coverage of the 2016 Wisconsin Film Festival kicks off with our annual "Big Three" breakdowns of the schedule, which was released today. 
Today: The Big Auteurs—International Narrative Features
For other entries in our 2016 Wisconsin Film Festival coverage, click on #wifilmfest in the navigation menu.
---
Edwanike Harbour and James Kreul look at two strands of the international programming: acclaimed auteurs and a distinctive thread of dark humor. Each title includes a description and a sample trade review from either Variety or Hollywood Reporter.
The Big Auteurs—International Narrative Features
Old Friends
With the range of international films coming to town getting more and more limited, especially in terms of theatrical runs, the Wisconsin Film Festival is once again a time and place to catch up with what is going on with global cinema.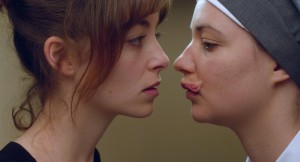 This will be the last entry from famed director Andrzej Zulaski (Possession, 1981) who passed away earlier this year. Dismissing notions of a linear narrative, this film may be challenging to some viewers unaccustomed to his directorial style. An adaptation of Witold Grombowicz's novel, Cosmos tells the story of two friends who suspect that mysterious items they find in a countryside house could have greater significance. Filled with lyrical symbolism and Zulaksi's surrealist vision, Cosmos should attract fans of David Lynch and Andrzej Wajda. Trade review: Variety.
Based on the Lewis Grassic Gibbon novel, Sunset Song is the heartbreaking tale of a young Scottish girl coming of age in the rural world of the Mearns. Chris Guthrie (Agyness Deyn), the daughter of a crofting family living south of Aberdeen in the 1900s, lives under the watchful eye of her strict Presbyterian father, but this does not dampen her spirit or curiosity. The approach of World War I brings unwanted modernity to her rural community. Fans of Davies have waited patiently for this long-delayed production, and they will see many thematic similarities to The House of Mirth and The Deep Blue Sea. Critics have praised Michael McDonough's lush cinematography. Trade review: Hollywood Reporter.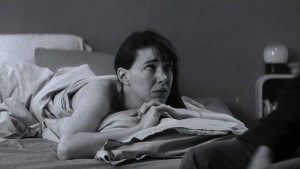 Philippe Garrel follows in the same footsteps of Truffaut, Godard, Resnais and the like. His feature directing career dates back to Le révélateur (1968), but is name is not as well known as many of his colleagues who started around the same time. His previous film was 2013's Jealousy, which only played once in Madison at the Madison Museum of Contemporary Art's Spotlight Cinema series. With In the Shadow of Women, Garrel once again delivers a quietly observed relationship drama, this time focusing on a documentary filmmaking couple who are struggling despite their commitment to their craft. Their professional and personal relationships are challenged by financial challenges and infidelities. Trade review: Variety.
Part romantic comedy, part philosophical masturbatory debate, Jose Luis Guerin's The Academy of Muses will either enrage or entertain festival goers this year. Morally ambiguous but not groundbreaking per se, Guerin depicts an aging professor who has come up with less than conventional pedagogy to "educate" his students. A slight departure from some of his earlier work (In the City of Sylvia, Train of Shadows), the blending of fact and fiction will give viewers something to chew on intellectually even though many believe they know where they sit on this side of the debate. Trade review: Hollywood Reporter.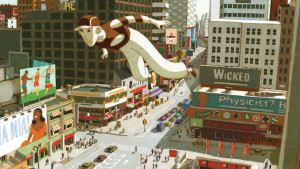 Tarantino fanboys will tell you his love of cinema is what makes him an effective director. Jean-Luc Felicioli and Alian Gagnol may represent a more refreshing version of this same concept. Clearly students of American cinema, the directors of A Cat in Paris return with the story of a young boy with super powers help a wheelchair-bound policeman take down a mob boss. Phantom Boy is reportedly less interesting for adults than A Cat in Paris, but animation fans will likely be drawn to this alternative universe. Trade review: Variety.
Gabriel Byrne and Jesse Eisenberg round out the intriguing cast in the first English language film from Joachim Trier (Oslo, August 31st, WFF 2011). Eisenberg has been a bit of a polarizing figure in the cinematic world as of late. Love him or hate him, every role he takes he makes his own and it's no different here in the riveting performance he gives as the son of a deceased war photographer (Isabelle Huppert). Her death continues to haunt her colleagues and her family, especially her youngest son (Devin Druid, from Olive Kitteridge). The screenplay was co-written by Eskil Vogt who directed the Missed Madison Film Festival selection, Blind.  Trade review: Variety.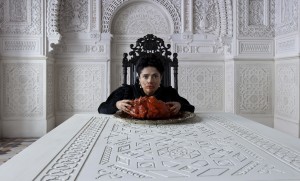 With his first English language feature, Italian director Matteo Garrone (Gomorrah) weaves three separate fairy tales of jealousy and vengeance: a queen willing to do anything to conceive a child; a prince and his pauper-twin; and two sisters who are the objects of a king's lust. Salma Hayek and Vince Cassel dip into some uncharted waters for both of them thus far. Tale of Tales is based on the work of Giambattista Basile, a 17th century Neapolitan courtier and writer. As with Trier's Louder than Bombs, it should be interesting to see if this international co-production maintains the director's distinct perspective. Trade review: Hollywood Reporter.
Gerard Depardieu has always seemed comfortable in his own skin. He has been a major French star since the 1970s, and he charmed his way into American audiences' hearts in Cyrano de Bergerac. He has always had a strange command of himself and the screen. In Valley of Love, he plays a grief stricken father and estranged partner. Isabelle Huppert, who has a ghost-like presence in Louder than Bombs, has a more physical presence here and both she and Depardieu play off their respective screen personas. Fans of both actors have eagerly anticipated their first film together since Maurice Pialat's Loulou 35 years ago. This is director Nicloux's followup to the quirky and acclaimed The Kidnapping of Michel Houellebecq. Trade review: Variety
Globalized Humor
The Wisconsin Film Festival has never lacked humor, but this year's lineup does feature a number of films with a distinct and often dark comic sensibility which does set it apart from some recent years. Not all of these would qualify as a straightforward "comedy," strictly speaking, but they do seem to express a somewhat warped sensibility (and we might want to include Tale of Tales, mentioned above, here as well).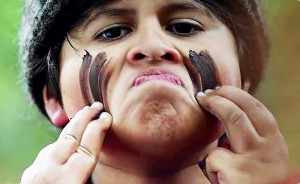 Waititi scored big last year with What We Do in the Shadows (a sequel is reportedly in the works), but I'm also a fan of his earlier Boy from 2010, which didn't get much attention stateside (but is currently streaming on Netflix). With Hunt for the Wilderpeople, Waititi returns to a young boy protagonist: Ricky (Julian Dennison) finds himself in a new foster home in the backwoods of New Zealand. Critics have described Wilderpeople as a throwback to Goonies-style adventure/comedies, so while Shadows fans might be surprised, Boy fans should recognize Waititi's willingness to be silly and broadly entertaining. Trade review: Variety
Sion Sono made five feature films last year, one being Love & Peace. This makes it almost impossible to keep up with what he's doing, but if you're not familiar with his work many fans recommend starting with "pink film" homage Love Exposure (2008) or the WFF 2014 favorite, Why Don't You Play in Hell. Two other films from 2014, Tokyo Tribe and ABCs of Death 2, are currently streaming on Netflix. Fans might be surprised that, like Waititi, Sono has delivered with Love & Peace what some have described as a "family film." But that doesn't mean the film lacks a twisted sensibility. Variety's Peter Deburge has described Love & Peace as "Babe by way of Godzilla." Trade review: Variety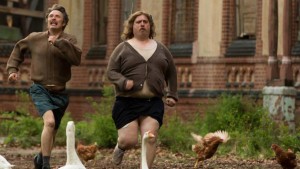 Wisconsin Film Festival fans will likely remember Anders Thomas Jensen's The Green Butchers (2003), but he hasn't directed a feature since the less well received Adam's Apples (2005). (He has continued as a successful screenwriter, including penning the script for Susanne Bier's Oscar winning In a Better World). With Men & Chicken Jensen is reunited once again with Mads Mikkelson, best known to American audiences in his roles as heavies (especially as Le Chiffre in Casino Royale). Here he turns in a off-kilter comic performance (and is almost unrecognizable) as Elias, who along with his half-brother Gabriel (David Dencik) travel to a remote, sparsely populated island to learn the secrets behind their biological father, whom they learn about for the first time after their adoptive father passes away. As socially incompetent as Elias might be, he is the height of sophistication compared to his newly discovered half-brothers on the island, Gregor (Nikolaj Lie Kass), Franz (Søren Malling) and Josef (Nicolas Bro), who do their best to prevent Elias and Gabriel from meeting their father, or learning about their respective mothers. Trade review: Variety
While less familiar to American audiences, de la Iglesia has been compared to Guillermo del Toro and Peter Jackson, and IMDb notes that he was briefly associated with the proposed Doom video game adaptation. The easiest way to introduce yourself to his work is to check out the madcap bank-robbers-discover-witch's-coven farce Witching & Bitching, which is currently streaming on Netflix. With My Big Night, de la Iglesia turns his attention to the madness of live television, in this case an over-the-top New Year's Eve special which turns from an old-fashioned variety show to loud, colorful romp. The Hollywood Reporter gives special notice to 71-year-old singer Raphael, who appears in the film as the evil Alphonso, who ventures into self-parody in a way that might resonate more with Spanish viewers familiar with his persona. Trade review: Hollywood Reporter.
As an actor, Steve Oram has been a visible presence in British film and television over the last decade, including Ben Wheatley's Sightseers, Edgar Wright's The World's End, and appearances on shows including The Mighty Boosh and The Increasingly Poor Decisions of Todd Margaret. With the 8-a'd Aaaaaaaah!, Oram makes his feature directorial debut, which British critics have described in terms ranging from a "transgressive situationist comedy" to "something so unorthodox and avant-garde amidst a cinematic landscape palpably devoid of originality." The film is a family drama that contains no dialogue; actors speak in grunts and groans. Probably not for everybody, but you knew that after the first few a's in Aaaaaaaah!
Even though this is a short film, we're obligated to point out any time Guy Maddin films play in town. What is there to say about Maddin and his films that haven't already been said, either during his 2014 visit to Madison, or when The Forbidden Room played in town? Well, as a matter of fact, just today Rob Thomas has more to say about The Forbidden Room and its Blu-Ray release. If you are not familiar with Maddin, catch up with The Forbidden Room on Netflix, or a wider range of Maddin's films on Fandor. And, of course, another good starting spot would be Four Star Video Cooperative. Oh, and by the way, if you're not Canadian, chances are you might not know who Tim Horton is. For a Tim Horton primer, go here.
Update: 3/19/16:
One disadvantage to our approach to the "Big" previews is that many perfectly good films slip through the cracks due to the overwhelming amount of information to process. For the most part we gravitate to directors we know from the past, and lesser known names and their films have to wait until we see them during the Festival. Well, we went and talked to some people who were near the front of the lines at the Union South office today before it opened (a post with more details coming soon), and one title that came up very regularly in their picks was Sparrows. This is Rúnarsson's followup to his well received 2011 debut, Volcano, and reviews suggest that this coming-of-age story could inspire some interesting post-screening discussions. Trade review: Variety