Streaming Quick Picks: David Koepp
The Wisconsin's Own portion of each year's Wisconsin Film Festival puts the spotlight on films from Wisconsin filmmakers. Before the Festival releases its schedule later this week, UW Cinematheque will be paying tribute to a Wisconsin filmmaker too, in form of a visit from versatile and prolific screenwriter/director David Koepp. A Pewaukee native, Koepp will be paying Madison a visit to present and discuss his work, and the good folks at the Cinematheque will be screening three of his films over two days. In honor of Mr. Koepp's visit and the Cinematheque's events this week (see schedule below as well), our latest installment of our Streaming Quick Picks is devoted to his work both as a writer and a director.
You may or may not immediately recognize Koepp by name, but you will surely recognize a major portion of his work. He is responsible for authoring or co-authoring the scripts for some of Hollywood's biggest films, including Jurassic Park, Mission: Impossible, and Spider-Man. His scripts have been directed by names like Spielberg, Howard, Fincher, and De Palma. In addition to his lengthy roster of summer blockbusters, Koepp has also worked on a number of smaller films that trade chase scenes and explosions for more complex human drama. Koepp is expert at working in multiple genres, and in looking at his body of work, his work on three films released in 1994 serves as a kind of convenient focal point for his career.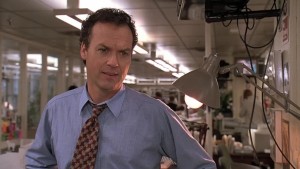 March 1994 saw the first of the three: The Paper. I've found that, outside of UW-Madison anyway, The Paper has managed to remain a woefully under-seen film. It's fair to say that, for me, The Paper is the best film since the 1940's to be set in a newspaper office. (I like All the President's Men, but I'll take The Paper any day of the week.) Hearkening back to the rapid-fire delivery of His Girl Friday, Koepp's script—co-written with his brother Stephen—is brilliantly structured and has whip-smart dialogue. It is a politically relevant story without being heavy-handed, which is to say it's a very human story. This is representative of one of Koepp's strengths: he is excellent at balancing high stakes, interpersonal drama, and humor. It may not be the more conventional end-of-the-world stakes, but at The Paper's center is the question of two young men being framed for a crime they didn't commit. After all, the question of guilt or innocence is always one of high stakes.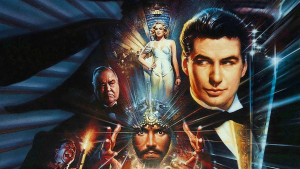 For those in search of those end-of-the-world stakes, July 1994 obliged when The Shadow arrived in theaters. With the current ubiquity of superhero films, it may be difficult to remember a time when superheroes were not a box-office surety, but the mid-90's was certainly such a time. In contrast to the darker, more serious tone of modern superhero fare, The Shadow has a lightness to it that I found entertaining at the time and refreshing today. The banter between Alec Baldwin and Penelope Ann Miller never ceases to bring a smile and a laugh, and even though it doesn't have The Paper's acerbic wit, the dialogue in The Shadow is often just as snappy. The film was, in both story and tone, a throwback to the serials of the 1930's and 1940's. Ultimately, the film didn't do well financially or critically, but it has its defenders, and it shows how capable Koepp is when plotting adventure, something else at which he is adept.
Finally, in September 1994, Koepp released his directorial debut, the short film Suspicious. This 13-minute thriller, starring Janeane Garofalo and Michael Rooker, marked Koepp's transition from writer to writer/director. It is easy to see how it sets the stage for some of his feature work as a director (e.g. The Trigger Effect, Secret Window), but make no mistake: it stands on its own as a very solid short film. It bears the wit that one expects from Koepp's scripts, and Koepp manages to do in 13 minutes what some films can't seem to do in 120: create genuine suspense. You can check out Suspicious on YouTube. The resolution isn't so great, but it's very much worth a look.
https://www.youtube.com/watch?v=2LtSENnoDhc
In addition to the many films streaming below, Cinematheque will be showing three of Koepp's films, two of which he wrote, and one which he wrote and directed. All films will be playing in 4070 Vilas Hall and all will include a Q&A with Koepp himself. Dates, times, titles are as follows:
Wednesday, March 11, 3:30pm
War of the Worlds | Steven Spielberg | USA | 2005 | 108 min
Wednesday, March 11, 7:00pm
The Paper | Ron Howard | USA | 1994 | 112 min
Thursday, March 12, 7:00pm
Ghost Town | David Koepp | USA | 2008 | 102 min
In the meantime, almost all of Koepp's films are streaming on one platform or another. So, either in anticipation of his visit or perhaps afterward, take some time to revisit or discover his films below. Be sure to let us know what your thoughts are on his films and/or his talk in the comments section below.
Click on the movie posters without tags to take you to Netflix, Amazon Instant or other streaming resources based on current availability.
Links are confirmed as of the posting date. Use GoWatchIt for availability updates and for additional current streaming resources. (Note: Because GoWatchIt does not support searches by screenwriter, the button below will take you to Koepp's directorial work.)

Local DVDs: Four Star Video Cooperative and Madison Public Library
For our Madison readers, we can provide the last couple of Koepp's films that aren't streaming, and they happen to be his earliest. As always, there are also links for Koepp's films that are available through Four Star and the Madison Public Library. One note about these: while the link for the library will bring up a general search for Koepp, the Four Star link will only take you to his directorial efforts. Given the popularity of his films, however, no doubt Four Star will have most everything else as well.