Program Notes: Rooftop Cinema
INAATE/SE/ [it shines a certain way. to a certain place./it flies. falls./] | Zack Khalil and Adam Khalil | US | 2016 | 75 minutes
Rooftop Cinema concludes its 2018 season with the hybrid documentary INAATE/SE, which re-imagines the Seven Fires Prophecy from the Ojibway tribe to comment on contemporary Native American experience.
Synopsis from the filmmakers at inaatese.com:
Adam Khalil and Zack Khalil's new film re-imagines an ancient Ojibway story, the Seven Fires Prophecy, which both predates and predicts first contact with Europeans. A kaleidoscopic experience blending documentary, narrative, and experimental forms, INAATE/SE/ transcends linear colonized history to explore how the prophecy resonates through the generations in their indigenous community within Michigan's Upper Peninsula. With acute geographic specificity, and grand historical scope, the film fixes its lens between the sacred and the profane to pry open the construction of contemporary indigenous identity.
Official Selection, Doc Fortnight 2016, Museum of Modern Art:
"History is written by the victors, but this film reminds us
that the history of the oppressed can still be saved from being extinguished. Native American video artists Adam and Zack Khalil here reclaim the narrative of the Ojibway of Sault Ste. Marie, in Michigan's Upper Penninsula, from the archives and museums that would confine it to the past. Using personal interviews, animated drawings, performance, and provocative intercutting, the Khalil brothers' feature debut makes a bold case for the Ojibway people to be their own storytellers—while seeking a cure for the damage inflicted by colonization—in a spiritual reconnection with tradition."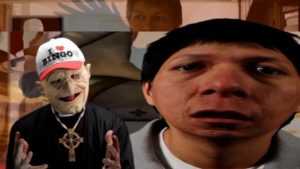 Review at nonfics.com by Daniel Webster:
"Every one in a while, a film comes around that so bluntly and creatively rejects the dominant form of documentary expression, it feels like something brand new. INAATE/SE/, the debut feature by brothers Adam and Zack Khalil, is one of those revelations. Yet neither the story they tell nor the way they express it to the audience is entirely original. It has simply been neglected, warped by centuries of dishonest narrative and colonial expression. The chief accomplishment of the Khalil brothers is their refusal to succumb to any of these pressures, instead blending their own personal ingenuity with a way of seeing the world that emerges from their culture [. . .]
Unlike the Tower of History or even the National Museum of the American Indian, which can present Ojibway artifacts as if they come from a people entirely in the past, the Khalil brothers use their history as a way to see into the future. The result, boosted by an extended sequence of traditional medicine, vision quests and a green screen trip into a brightly colored realm of new consciousness, is as vital as it is trippy. With its rambunctious, revolutionary style, INAATE/SE/ is as lucid a dream of the future as any historical documentary has ever been."
Filmmaker biographies:
Adam Shingwak Khalil attempts to subvert traditional forms of ethnography through humor, relation, and transgression. Adam's work has been exhibited at UnionDocs, e-flux, Maysles Cinema, Microscope Gallery (New York), Museo ExTeresa Arte Actual (Mexico City), Spektrum (Berlin), Trailer Gallery (Sweden), Carnival of eCreativity (Bombay), and Fine Art Film Festival Szolnok (Hungary). Khalil is a UnionDocs Collaborative Fellow and Gates Millennium Scholar. In 2011 he graduated from the Film and Electronic Arts program at Bard College.
Zack Khalil often explores an indigenous worldview and undermines traditional forms of historical authority through the excavation of alternative histories and the use of innovative documentary forms. He recently completed a B.A. at Bard College in the Film and Electronic Arts Department, and is a UnionDocs Collaborative Fellow and Gates Millennium Scholar.