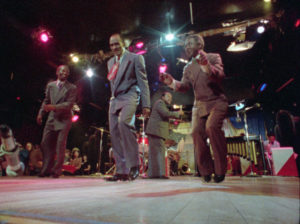 Program Notes: Rooftop Cinema
No Maps on My Taps | George T. Nierenberg | US | 1979 | 59 minutes
Elemental | Elizabeth Wadium and Aaron Granat | US | 2017 | 5 minutes
Rooftop Cinema kicks off its 2018 season with two memorable celebrations of movement and dance.
George T. Nierenberg's 1979 documentary No Maps on My Taps has received renewed critical attention thanks to a recent restoration of the original camera negative and a theatrical re-release by Milestone Films. In the New York Times, Brian Seibert concluded about No Maps and its companion film, About Tap (1985), that "the films, which I consider the two best ever made about the art, didn't just record tap history; they became part of it, helping to stoke a revival."
In Screen Slate, Erica Gold and Tanya Goldman raved, "At performance time, the percussive quality of the dance—clicks, clacks, stomps—transforms each dancer into a musician as they trade riffs with the band; they themselves are integral parts of the musical compositions. On stage, No Maps shows each performer buoyant and effortless, while interviews give us candid glimpses of lifestyles more challenging beyond the stage. Lovingly shot and composed by Nierenberg, each dancer's story and style vividly come alive."
The premise of the film is deceptively simple. Aging tap dancers, Chuck Green, Bunny Briggs, and Howard "Sandman" Sims agree to a "challenge show," to bring out their best steps that took a lifetime to perfect. But the impact of the film goes beyond the exhilarating dance sequences. We also learn what it means to dedicate oneself to mastering an art form.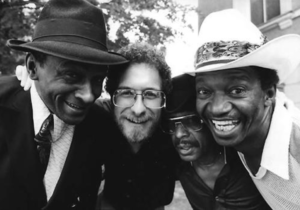 Nierenberg has had a wide ranging career in feature filmmaking, television, and corporate videos. His credits include the acclaimed 1983 documentary about gospel music, Say Amen, Somebody. Roger Ebert began his four-star review of that film, "Say Amen, Somebody is the most joyful movie I've seen in a very long time. It is also one of the best musicals and one of the most interesting documentaries. And it's also a terrific good time." Fans of tonight's program will want to seek out Say Amen, Somebody as well; it is currently available on DVD through the Madison Public Library.
On his website, Nierenberg recalls the impact that No Maps on My Taps had on the tap community and on the dancers featured in the film:
People understood the humanity of the art itself and gravitated to that, so it was a very popular film that really galvanized the tap community; it was sort of the genesis of the resurgence of tap. A lot happened afterwards: There were tap parades, and we did a tour around the world, where the film was the first part of the show. Then the tap dancers would come out, and they'd get a standing ovation just for walking on stage. We did over sixty shows around the world, called No Maps for My Taps and Company.
The dancers had never experienced anything like that. Normally they'd get on stage and have to work the crowd. But on our tour, the crowd was in the palm of their hands when they walked out on stage because the film made them bigger than life [. . .] Their careers took off. Not only that, a whole generation of tap dancers learned from them. It became so much more popular, in a bigger sense, around the world, but they became the masters. They became the ones who were really respected old men. They got what they deserved—they were valued in a way that they never could have anticipated.
While No Maps celebrates established dancers in the twilight of their career, tonight's opening short showcases a young dancer at the beginning of his. Elemental by Elizabeth Wadium and Aaron Granat was featured on the opening night of this year's Wisconsin Film Festival. Their collaborator, Solomon Roller, received an Outstanding Dance Performer citation at the 2016 Tommy Awards for his performance in Bring It On: The Musical at the Verona Area Community Theater.
---
Rooftop Cinema is a program of MMoCA's education department and is curated by James Kreul, with technical support provided by Tanner Engbretsen. MMoCA's film programming is generously funded by maiahaus and Venture Investors, LLC.
Photos:
From LEFT: Howard "Sandman" Sims, Chuck Green and Bunny Briggs, co-stars of NO MAPS ON MY TAPS, on stage. NO MAPS ON MY TAPS a film by George T. Nierenberg and restored by Milestone Films
George Nierenberg with Chuck Green, Bunny Briggs, and Sandman Sims on the set of NO MAPS ON MY TAPS. NO MAPS ON MY TAPS a film by George T. Nierenberg and restored by Milestone Films