Steve James (Hoop Dreams, Life Itself) returns with a portrait of a community-driven Chinese-American family caught in the middle of the mortgage crisis backlash in Abacus: Small Enough to Jail. New contributor Nicole Rogers reviews the film as part of our 10-day Wisconsin Film Festival preview.
Abacus: Small Enough to Jail tells the story of a family, a community, and the honor of both. The Manhattan District Attorney's office threatened that honor when they brought a case against Abacus Federal Savings Bank, which served New York's Chinatown neighborhood, at the height of the U.S. mortgage crisis backlash.
The latest documentary from director Steve James (Hoop Dreams, Life Itself) is a master class in restraint and the joys therein. It tackles a potentially dry topic—home loans and the subprime mortgage crisis—but his subjects, Abacus owner Thomas Sung and his family, are full of intensity bubbling just below the surface. The rich culture of New York's Chinatown serves as a fascinating setting—and in fact more than just a backdrop. A lesser film would have pushed the David and Goliath trope. Instead James offers a meditative glimpse into the role one man plays in his community.
Thomas Sung chose Abacus as the name of his bank because the ancient calculator made of beads and rods is a Chinese national treasure. Sung hoped that his bank would serve the Chinese American community honorably.
James introduces us to Sung and his wife Hwei Lin tearing up, watching It's Wonderful Life. Sung has tremendous respect for George Bailey (Jimmy Stewart's character) in the film, and he explains that his inspiration for starting a bank—to help his community of immigrants—resembled George's motives. Sung entered the banking world to help people, of all things.
Sung immigrated to the U.S. from Shanghai at age sixteen, went to law school and moved to New York's Chinatown. As one of the few Chinese-American lawyers at the time he did a lot of pro-bono work and noticed that the local banks were happy to take money from Chinese-Americans, but not as eager to approve their loans. Sung started a bank to remedy that kind of unfair treatment. James paints a convincing portrait of an unassuming, determined gentleman who cares deeply about Chinatown—a small village with a unique culture housed within our nation's largest city.
James follows the chronology of the case the Manhattan DA brought against Abacus Federal Savings Bank and several of its employees. In 2009, Vera Sung—a director at the bank and eldest daughter of Mr. Sung—discovered evidence that an employee, Ken Yu, had been stealing, laundering money, and committing fraud. Abacus fired Yu, informed regulators, conducted an investigation, and instructed one of the victims to file a police report. Additionally, Abacus provided prosecutors with binders and binders of evidence to support, presumably, Mr. Yu's prosecution. However, much to the family's surprise, this all led to the DA indicting the bank and nineteen of its employees for mortgage fraud in May, 2012.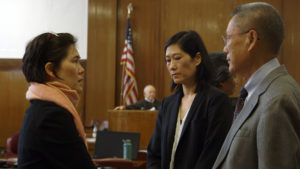 What plays out next is part courtroom drama, part David and Goliath parable, but mostly an endearing family portrait. Though the trial dates ticking off in the corner of the screen certainly build suspense, it is Sung's family—specifically the highly intelligent, intense daughters fiercely protecting their family business—that makes you want to jump through the screen, grab some legal briefs and offer to help. Their charm, which builds over the course of the film, makes the stakes that much higher.
The film asks if Abacus was truly a threat or merely a convenient target. All the "big guys"—Morgan Stanley, Goldman Sachs, JP Morgan Chase, Citi Corp and others—admitted to massive, calculated, reckless crimes that led to the subprime mortgage crisis. They issued some $4.8 trillion in fraudulent mortgages. Yet criminal charges against the major banks could have crippled the financial system, so they walked away by paying fines.
Abacus and its employees were charged with multiple felonies. Did the Manhattan DA's office want to make an example of a bank to appease public outrage? Journalist Matt Taibbi jokes in the film, "I think if you were going to pick a bank to pick on, a family-owned company wedged between a couple of noodle shops in Chinatown is about as easy a target as you could possibly pick."
Hwei Lin Sung maintains that nobody pushes her husband around before insisting that her daughters, the next generation of Abacus, are tough and courageous as well. It doesn't hurt that the Sungs are a family of lawyers. In addition to Mr. Sung's legal career, two of his daughters have worked for the DA's office. One of them quit her job as an Assistant DA to fight the charges with her family. This is the point where, as the daughter of a small-town family business myself, I felt a cautious (maybe slightly tearful) smile spread across my face.
Sung remains a respected man of few, carefully chosen words, content with the impact he has made. His daughters are still full of fight, and they nearly shake with rage describing the injustices leveled against their family and business. The daughters have much more in common with their tough-as-nails immigrant parents than they realize, despite being assimilated, second-generation Americans who never expected to work in Chinatown.
That intensity gives way to tender, funny, and touching moments, like when Sung's daughters argue over the dryness of his sandwich and whether or not he likes it—not allowing him to speak much on the topic. Despite being a former Assistant District Attorney, the baby of the family, Chanterelle, must repeat herself over and over to be heard amid her older sisters' strong voices. And their mother, characterized as the nervous one of the family, often chimes in with great one-liners. James gives these formidable women a reverent amount of screen time to reveal their strength and character.
Communities, like families, are hard to judge from the outside looking in. Abacus describes the ways in which Chinatown's unique population doesn't fit into the normal lending profile of bankers with W2s and 401Ks. Abacus Federal Savings Bank chose to serve this largely immigrant community, challenges and all, but they did so because they knew their character. Like George Bailey running in to save the savings and loan in It's A Wonderful Life, Thomas Sung knew his town and its inhabitants.
During the period of time investigated by the government, Abacus wrote over 3000 mortgages and only nine resulted in defaults. That's a stunningly low default rate. Yet Abacus remains the only bank indicted for mortgage fraud related to the U.S. mortgage crisis. That's as much of the ending as I'll spoil for you.