While far from a radical gesture, Andrzej Wajda's Afterimage lingers in the mind as a vivid, somber portrait of a defiant artist systematically crushed by the machinery of Soviet oppression. Jason Fuhrman continues our 10-day Wisconsin Film Festival preview with his review.
The final film directed by Polish master Andrzej Wajda (1926-2016) dramatizes the life of Władysław Strzemiński (1893–1952), an avant-garde painter who refused to acquiesce to the Communist government's rigid insistence on "socialist realism" in post-war Poland. An uncompromising and deeply personal look at the often complex relationship between art and politics, Afterimage captures the visionary, Soviet-trained artist and instructor in his last four years.
When we meet Strzemiński (portrayed by Boguslaw Linda), he thrives in the autumn of an illustrious career, admired by colleagues and adored by his students at the School of Visual Arts in Łódź, an institution he co-founded. However, he soon finds himself at a crossroads when his abstract, formalist works and progressive theories clash with the cultural mandates of the Stalinist authorities. Stripped of his teaching position and struggling with severe physical limitations, Strzemiński's prospects become increasingly bleak.
Early in the film, Strzemiński sits down to paint when a crew of workmen attaches an enormous banner emblazoned with Stalin's stern visage to the outside wall of his building. Printed on a red fabric, the portrait obstructs the natural light from his window and saturates the entire flat with a blood-red hue. He finds it impossible to continue with his work. The effect is visually striking and the message is plain, even a bit obvious: Soviet ideology, with its emphasis on propaganda for the masses, casts an ominous shadow over the expression of the individual. But Strzemiński protests this interruption and reacts violently. Snatching one of his crutches, he tears a hole in the fabric and nonchalantly resumes painting.
Adopting a somewhat bald, didactic approach to his subject, Wajda proceeds to gradually reveal the tragic consequences of a fight for artistic freedom in an authoritarian society. He monotonously chronicles Strzemiński's slow, excruciating bureaucratic punishment, while faithfully reproducing the dull gray and brown palette of a repressive era in Polish history.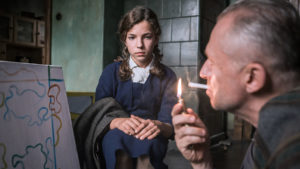 Rather than embracing the artist's experimental nature or conveying the spirit of his dissidence, Wajda tells Strzemiński's grim story with the staidly linear narrative structure of a classical costume drama. Although the film exhibits an elegant combination of beautiful lighting, tasteful art direction and the exquisite images of Pawel Edelman, its aesthetic design appears counterintuitive. For a film about a fiercely avant-garde painter with a penchant for vibrant colors, Afterimage may seem like a curiously muted and conventional biopic.
The brilliant central performance by Polish superstar Linda dominates the film, and he becomes a convincing double amputee due to impressively unobtrusive visual effects. The decision to use music by the late Andrzej Panufnik is also inspired. Panufnik was a modernist composer who defected from Poland to escape the same stifling political climate that ruined Strzeminski.
As a love letter from one Polish dissident artist to another, Afterimage presents a heartrending counterpoint to Wajda's own career. The director lived and worked under the same regime and his early films (Generation, Kanal, Ashes and Diamonds) are considered definitive portraits of Poland during that period. Although he often conflicted with the powers that be throughout his life, Wajda was able to avoid the kind of persecution that Strzemiński suffered.
In the words of Michał Oleszczyk, an assistant professor of film at the University of Warsaw: "The irony of Afterimage . . . is that Wajda himself actually did master the game that Strzemiński, who died of tuberculosis and starvation after having been repeatedly denied the right to ply his trade, proved incapable of grasping: that of making one's art under the watchful eye of the Communist authorities—and then turning it against them."
With his last work, therefore, Wajda succeeds in creating a sensitive tribute to a charismatic, obstinate man who maintained his artistic integrity even when it threatened his very existence. A bitter and universal tale of injustice, Afterimage refrains from indulging in mawkish sentimentality, while blazing with restrained passion and clearly expressing the absurdity of Strzemiński's fate. Although the film may not represent a high point in Wajda's consistently adventurous career, Afterimage stands as a poignant farewell from an innovative auteur who achieved a delicate balance between harsh political realities and his own artistic fulfillment.