Review: Wisconsin Film Festival
Beauty and the Dogs | Kaouther Ben Hania | Tunisia, France, Sweden, Norway, Lebanon, Qatar, Switzerland | 2017 | 99 min
In Beauty and the Dogs, Tunisian director Kaouther Ben Hania employs innovative cinematic techniques to tell a vital and uncompromising tale of female empowerment, but an overall lack of subtlety detracts from the bite of her film.
Franz Kafka's 1914 short story "In the Penal Colony" opens with a military officer showing an intricate capital punishment machine to an explorer who has been invited to witness the execution of a prisoner. The officer explains the workings of the unusual apparatus in great detail and claims to have been appointed the penal colony's sole judge. "My guiding principle is this: Guilt is never to be doubted."
The exact same law seems to govern the world depicted in Tunisian director Kaouther Ben Hania's Beauty and the Dogs. Inspired by events that took place in Tunisia in 2012 and were recounted in the book Coupable d'être violée ("Guilty of Having Been Raped") by Meriem Ben Mohamed, this feminist political horror film unfolds practically in real time over the course of one harrowing night.
Newcomer Mariam Al Ferjani portrays an unmarried young student attending a university party that she helped organize. What begins as a carefree, effervescent evening of innocent fun unexpectedly transforms into a senseless, disorienting nightmare. Ben Hania divides the painful story into nine chapters, each consisting of a single, uninterrupted shot that forcefully immerses viewers in her protagonist's subjective ordeal.
Beauty and the Dogs inevitably recalls another aesthetically bold film about a rape that develops over the course of a single night in episodic fragments and long takes: Irréversible (2002) by Gaspar Noé. Both works exploit the cinematic medium in ways that demand active participation from viewers, thus heightening audience identification with the victims. Noé's controversial film focuses on a graphic and extremely disturbing depiction of sexual violence, whereas Beauty and the Dogs reveals the abject horrors of trying to report such a crime in a rigidly hierarchical system of entrenched toxic masculinity.
At the outset of the movie, Mariam borrows a slinky, stunning dress from a friend after her own (comparatively modest) outfit gets torn. A handsome, slightly older man named Yousef (Ghanem Zrelli) catches her attention, a flirtation ensues, and the two go outside for a walk on the beach. The film cuts to black and suddenly, we see a visibly distraught Mariam, her hair disheveled and eyeliner smeared across her face, running down the street with Yousef close behind her. Naturally, the viewer assumes that he has committed some kind of impropriety that compelled her to flee. But gradually it becomes apparent that she has just been raped by several policemen in a car.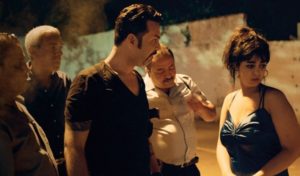 Yousef escorts Mariam to a nearby private clinic, where the contemptuous female desk clerk refuses to admit her without identification, which was in the bag that she left behind in the police car. (In Tunisia, a woman requires a medical certificate to prove that she was raped before she can file a legal complaint.) Next they try the emergency room of a public hospital, but a rape does not in fact constitute an emergency. Furthermore, the doctors cannot examine her until the police have opened an investigation. This condition puts Mariam in a particularly perverse catch-22, considering the fact that she must obtain a statement from the police station in the very area where she was raped before the medical examiner will even look for evidence of the assault. "I did a lot of research to make sure that the story felt real," the director assures Fabien Lemercier in an interview.
The subsequent episodes follow Mariam on an excruciating, labyrinthine journey to report her rape and bring the perpetrators to justice. Along the way, she endures countless indignities as she confronts an interminable succession of apathetic hospital workers, callous civil servants, and bureaucratic dead-ends. A group of thuggish police officers later exacerbate her humiliation when they attempt to intimidate Mariam into dropping the charges. Nevertheless, she persists in asserting her rights.
Throughout Beauty and the Dogs, Ben Hania maintains a realistic tension and plays with the conventions of genre cinema, namely crime thrillers, film noir, and horror. The pulsing rhythms of cinematographer Johan Holmquist's elegant, fluid camerawork imbue the film with a raw immediacy, while effectively conveying the absurdity of Mariam's situation. Long takes deny viewers the potential for relief offered by conventional editing, thus forcing us to directly face her anxiety, frustration, and disenfranchisement.
At once a fierce exposé of institutionalized sexism, a gripping emotional roller-coaster ride, and an ambitious stylistic experiment, Beauty and the Dogs powerfully captures the injustice of Mariam's personal experience in order to examine the harsh reality of life in a repressive, male-dominated society. But Ben Hania's timely and essential film goes far beyond the borders of her native country. By loosely adapting an urgent true story within an authentic context of official corruption, stifling moral codes, and administrative depersonalization, she acknowledges not only the courage of women all over the world who struggle to have their rights respected, but also what Hannah Arendt termed "the banality of evil."
Despite its technical virtuosity, hard-hitting verisimilitude, and incisive treatment of a hot-button issue, Beauty and the Dogs feels a little uneven and ultimately fails to deliver the expected emotional impact.
For example, many of the peripheral characters appear so one-dimensional as to verge on caricature, which has an incongruous effect in a film that primarily leans toward stark realism. Moreover, the decision to keep Mariam's assault off-screen initially, coupled with her tendency to tell white lies, puts us in a position to question the veracity of her account. Although this adds a layer of complexity to the film, the resultant narrative ambiguity and suspense around what exactly happened seems counterproductive and makes watching Beauty and the Dogs even more difficult.
At times, Ben Hania's visual metaphors also hit us over the head like blunt instruments, such as when Mariam finds herself cornered in an office full of caged canines that bark ferociously at her. These moments are, ironically, somewhat distracting in their obviousness and they are liable to actually hinder Ben Hania's purpose. Yet Beauty and the Dogs succeeds on multiple levels and the world certainly needs more films like this.