Review: One Afternoon Only
Caravan | Erik Charell | USA | 1934 | 101 min
James Kreul looks at Caravan, the Fox Studios musical that has rarely been screened since its initial theatrical release in 1934. He also provides a short video essay on how stylistic choices in cinematography, sound, and staging create the film's vibrant flow of energy.
The first thing you need to know if you're going to the UW Cinematheque screening of Erik Charell's Caravan (1934): It's up to you to do the "Ha Cha Cha"; and if you do, the Gus Kahn / Werner R. Heymann song will remain an earworm punctuating your every move for a few hours, if not days. This is not a bad thing. It will remind you of the pure bliss of discovering this long-unavailable gem. Scarcely seen since its initial theatrical release in 1934, Caravan will be screened in a restored 35mm print at the Chazen Museum on Sunday, September 20 at 2:00pm.
Caravan begins as a wine-producing Hungarian village prepares for its annual grape harvest by contracting a gypsy community to provide music during the grape-stomping festival. Music is essential to a successful harvest, so the otherwise denigrated gypsies are permitted in the village for the duration of the festival. The charismatic gypsy musician Latzi (Charles Boyer) provides a new composition each year, and his central role in the bustling festival provides opportunities for his eye to wander from his sort-of-girlfriend, Timka (Jean Parker). The film's representation of gypsy culture alternates between exotic romanticism ("Live Nowhere! Revel Anywhere! Love Everywhere!" the poster tagline suggests) and thinly veiled racism that casts gypsies as unscrupulous thieves.
But while the film disregards gypsies and their culture, it is not much more interested at representing Hungarian culture, either. Despite being based on an original story by Hungarian journalist Melchior Lengyel, whose stories later would provide the basis for Ninotchka and To Be or Not to Be, the Hungary of Caravan has more to do with the fantasy world of the 1930s Hollywood musical than with any European reality. Caravan is a Fox Studios production (just before its merger with 20th Century), but it seems more like a musical from Paramount, which specialized in sophisticated European settings in films directed by Ernst Lubitsch and Rouben Mamoulian and starring Jeannette MacDonald and Maurice Chevalier. Everything is quaintly rural but clean, beautiful and vibrant, and the dramatic conflicts can be resolved with a song or dance.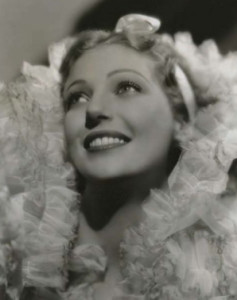 Here Fox's breakout star is a 21-year old Loretta Young as Countess Wilma, who returns to her palace near the village to inherit her estate after spending most of her childhood in Paris. Young is a complete pre-code knockout, and reminds one of flapper-era Joan Crawford. This is not the Loretta Young you know from The Farmer's Daughter or The Bishop's Wife (I mean, it literally is, you know what I mean). Young's eyes throw seductive daggers all across the screen as Wilma insists on living life to its fullest with a complete disregard for rules and etiquette.
In order to inherit her estate, Wilma must marry by midnight of her birthday, which is only hours away when she finds out. Conveniently her uncle (played by the great C. Aubrey Smith) has arranged for her to marry his drunken playboy son, Lieutenant Von Tokay (Phillips Holmes). Always the rebel, Wilma rejects this proposed marriage and looks to find another eligible bachelor. The gypsy musician Latzi is playing outside her window, so she calls him in and has him sign the groom side of the marriage contract before Von Tokay can arrive.
At first things are great as Latzi introduces Wilma to the freedom of gypsy life. But things quickly get complicated when the young Von Tokay does finally arrive, and Wilma discovers that she very much has the hots for him. With a wonderfully pre-code disregard for the institution of marriage (and even monogamy), a love quadrilateral develops with Wilma, Latzi, Timka and Von Tokay at the four corners.
Stylistically, Caravan is ambitious and audacious in its use of long takes, complex staging and a layered soundtrack. In his coverage of a MoMA screening of the restored Caravan print, Will McKinley explains that the film was a critical and financial failure, which effectively ended Charell's career as a director. But my video essay below, you will see that Charell was a talented craftsman with the ability to establish and maintain a high level of energy in any scene.
The resolution to the love quadrilateral is strangely unsatisfying, and it feels as it would if the jocks were to win at the end of a high school drama. And the very end to Latzi's story arc again reinforces the stereotype of gypsies as thieves. But none of that matters. As predictable as it may be in terms of plot and genre conventions, Caravan continuously surprises in terms of style and near-transgressive sexuality, which makes it one of the most vibrant films you will likely see on a big screen this year.