Exit Elena (Nathan Silver, 2012, 72 min)
Soft in the Head (Nathan Silver, 2013, 71 min)
During this time of year, conventional wisdom holds that screens are mostly populated by two types of films: holdovers from the previous year (generally Oscar bait), and movies of decidedly lesser interest and/or quality that the studios had to drop sometime. Thankfully, moviegoers in Madison have an opportunity to indulge in screenings that are a little more esoteric and a little less foregone than those batches of films. Enter Micro-Wave Cinema, which affords local cinephiles the chance to catch the newest work in truly independent cinema.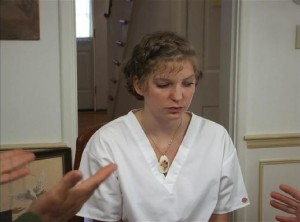 Two such examples are screening this Sunday evening, courtesy of filmmaker Nathan Silver: Exit Elena and Soft in the Head. Exit Elena begins with the titular character (Kia Davis, also the co-writer) completing her training to become a certified nurse's assistant. She subsequently gets her first job, providing in-home care to an elderly woman (Gert O'Connell) who lives with her son Jim (Jim Chiros) and daughter-in-law Cindy (the director's own mother, Cindy Silver). It soon becomes clear to Elena that she is not only expected to do her job but to become a part of the family too. Preferring to keep to herself initially, this prospect makes Elena uneasy, and when Jim and Cindy's troubled son (played by the director himself) returns home, life in the house becomes far more challenging.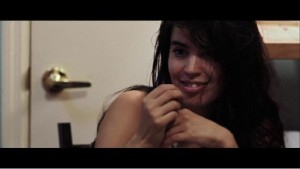 Soft in the Head showcases a similarly lonely lead in search of a place to call home. After getting kicked out of her boyfriend's apartment in alarmingly abusive fashion, Natalia (Sheila Exteberría) is on the hunt for a new place to live. Whether staying at a homeless shelter run by the immeasurably kind Maury (Ed Ryan) or bunking with her best friend Hannah (Melanie J. Scheiner) while seducing Hannah's awkward brother (Carl Kranz), Natalia leaves nothing but emotional chaos in her wake, leading up to a truly shocking conclusion.
Stylistic commonalities are definitely apparent between the two films. Both films have wonderfully bleak cinematography, but I especially love the way Silver utilizes almost cacophonous offscreen sound (usually dialogue) to generate and subsequently ramp up the tension of a scene. That dialogue is alternately amusing and vexing because, while taken to extremes in some cases here, it feels true to the kind of family bickering with which most of us are all too familiar. And, in terms of narrative, the films are remarkably compact while feeling fully realized.
This gets at another quality that I enjoy about both of these films: the performances in them are very "lived in," and Silver and the actors (professional or no) have seemingly taken great care in making them so. Kia Davis is captivating as Elena, and both Nathan and Cindy Silver are inspired in their respectively manic and overbearing qualities. Likewise, Sheila Exteberría is terrific in Soft in the Head, her bemused smiles shrouding increasingly deep pain.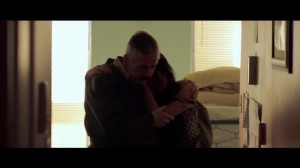 Ed Ryan's performance as Maury is also very enjoyable, particularly in the way it plays with cynicism that we might have about a character as generous as he is, and whether he is going to want anything in return. Well earned is the trust in this performance, in these performances, in these films.
Another stylistic attribute the films share is structural; each has a set of chapter breaks, though they seem to flow better in Elena than they do in Soft. In the former film, each chapter is given a title of its own, whereas in the latter film, they are merely numbered, which makes them seem more arbitrary (even though they really aren't). I would be curious to know why the director made those choices for each of the movies. After the Micro-Wave Cinema screening, it will be easy for me to ask, since Nathan Silver will be Skyping in for a post-film Q&A, providing audience members a more educational, entertaining, and immersive viewing experience.
Long-time fans of certain bands will sometime point out how they saw those bands perform in small clubs before they were big. Local moviegoers can do the same thing, thanks to Micro-Wave Cinema. In the midst of a usually dreary film season, it is more than worth your time to try something a little more outside the mainstream. And as these independent directors make more films and gain more recognition, you too can say, "Hey, I knew him/her when…"
Find more on Micro-Wave Cinema, including its schedule through April, on Facebook.