Emily Caulfield reviews Faces Places from legendary French filmmaker Agnès Varda and photo-muralist JR, which kicks off the Spring 2018 schedule at UW Cinematheque. The film assembles a quilt-like portrait of France-at-large by piecing together the small stories of everyday life.
Winner of the Golden Eye for best documentary at Cannes in 2017, Faces Places by Agnès Varda and JR delivers a sensualist's portrait of rural France, with revelations through sight and seeing, the gaze, and the gaze returned.
Varda, at 89-years-old, remains as curious and captivating as she has ever been. Despite the almost-boys-club of the French New Wave, her work was essential to and the essence of that movement. Since her directorial debut with La Pointe Courte (1955), her films consistently combine charming formalist tricks with her own warm exuberance. Self-referential moments, clever editing, and visual riddles underline over and over again that while film is her medium, to see and be seen is her message.
Her obsession with sight and story naturally led her to appreciate the work of photographer JR, who takes large-scale portraits of everyday people and pastes them on the the walls and buildings of urban France. A street artist 55 years Varda's junior, JR is the perfect foil for Varda, and the gradual deepening of their easy friendship is its own riveting subplot.
After a little meal in Varda's kitchen, the new collaborators hop into JR's photography van, equipped with a large format printer, and hit the road into the countryside. Truly egalitarian, they have no agenda; they follow hints and tips from people they meet, confident that wherever they go, there will be story. Their investigation becomes a kind of travelogue of the country, a frank and yet frilly depiction of the faces that really live there, rather than the idealized versions of their people that countries usually export. These faces and places, as beautiful and as essential to France as Catherine Deneuve and Françoise Hardy, nevertheless showcase the France we seldom see in cinematic exports.
Varda and JR meet miners and farmers, children and factory workers, dockworkers and their wives. As each segment with a group of people ends, we see the duo sitting in some sort of picturesque place, their backs to us, side by side, looking out at a pond, or garden, or sea. They briefly discuss their experience, usually with Varda making some characteristic and humanist comment, always with an eye to the odd, absurd, idiosyncratic.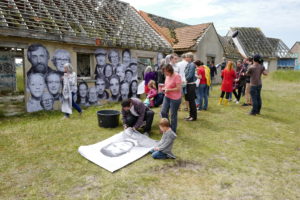 Of Varda's humanism: this film hinges on and works from her point of kindness, her boundless generosity. I am reminded again and again of a line from ee cummings' poem, "somewhere I have never traveled, gladly beyond": "nobody, not even the rain, has such small hands." The diminutive director has an inimitable interviewing style, drawing out her subjects delicately and with unending delight, compassion, and genuine interest. Her conversation makes her subject the star, and this feeling is echoed with JR's portraiture. To be seen is to be validated, to be held up, turned over, cared for, noticed. Asking uncommon questions, and listening closely to the answers, inspires some unique and memorable images. Her penchant for play leads her to ask a crew of factory workers how they spend their leisure time, and in turn we are treated with an impromptu ping pong match between the factory's safety officer and JR.
Varda's quiet examination of the French people, and JR's large, louder portraits of the same, evoke a sense of pride and participation in their subjects, a sense that affects the viewer just as deeply. Ever inclusive, these portraits promote the ownership of the subject—a sense of self and that self's place in the world. One of the most impressing of these portraits is of Pony, an artist who is homeless in the traditional sense of the word, but otherwise rich in gratitude. He invites JR and Varda to his realm, a magical makeshift land which would seem otherworldly in its peculiar beauty, until Pony himself brings us back to Earth with descriptions of the gifts his parents gave him: "I was born in the shadow of a star. My mother, the moon, gave me her coolness. My father, the sun, gave me his warmth, and the universe to live in. Imagine that. I have so much in this life."
As ever, over and over in her work, Varda explores the idea of perspective. Perception is everything in life, physically and metaphorically, whether it is a question of tall and small, powerful and powerless, city and country, mine or yours. This point of view, literally and figuratively, makes the film sing, notes trilling up and down jubilantly, comically, tragically. Following wherever the song and story go. He is me and she is we and we are all in it together, Faces Places seems to say. Whether it is a farmer who toils on 2000 acres alone, or a resilient resident of an old mining town, a village mailman, a horned goat, a fish from the market, this project knits together a portrait of France at large by piecing together the small stories of every life.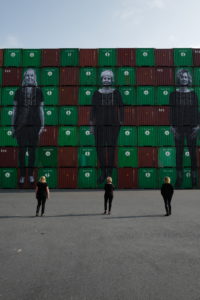 Another integral part of Varda's work in general and of Faces Places specifically is the role of women. Her exploration of female experience in Cléo de 5 à 7 (1962) is legendary, formative, hugely influential. Her feminist spirit infuses every project, here most remarkably in her totemic exhibition of three dockworkers' wives. JR brings Varda to the docks, where he'd photographed and pasted people before, with the ardent help of the men at work. Varda immediately asks where the all women are, and sets off to find some herself. "Much is made of the dockworkers' powerful union. Dockworkers, dockworkers…Their wives are rarely mentioned. I thought this time, I'd give you the floor." Wives Morgane, Nathalie, and Sophie meet with Varda to talk their experiences, and she gives them not only the floor, but shipping containers stories high, their portraits standing powerfully over the normally all male-domain of the dock. By changing the perspective, JR and Varda change the conversation that typically surrounds the dock. The way they see themselves. The way we see things.
Again and again, they revisit the notion of sight. Of perspective. They pay homage to photographers Guy Bourdin and Henri Cartier Bresson, their lives dedicated to seeing. "Oh, what an eye he had," she exclaims of Bresson. Her own eyesight is deteriorating, a little death that causes JR unending worry. One of the most compelling and artful compositions in the film is when Varda, wearing optic trial lens frames, directs a passel of people in a living eye chart, to illustrate what she really sees when she currently looks around.
Much is made in the film about JR's ever-present dark sunglasses, which he never removes. Like her other friend, Jean-Luc Godard, JR prefers to see the world in shadow. JR remarks to Varda, "You see blurry, and you're happy." She retorts, "You see everything dark, and you're happy. It all depends on how one sees things."