Try and Get Me! (aka The Sound of Fury) (Cy Endfield, 1950, 85 min)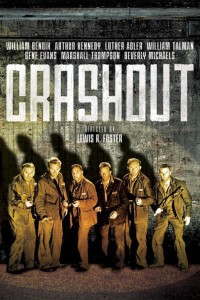 Crashout (Lewis R. Foster, 1955, 89 min)
 "Men don't live in a vacuum. They live with one another. And if a man becomes a criminal, sometimes his environment is defective."
If last week's UW Cinematheque film noir double bill—1949's The Great Gatsby and Alias Nick Beal—concerned itself with more affluent lead characters, this week's pairing of Try and Get Me! and Crashout is definitely more in the way of working class noir. To some degree, the quote above from Try and Get Me! is applicable to both films, merely from different sides of the prison bars.
Try and Get Me! begins with  Howard Tyler (Frank Lovejoy) vainly searching for a steady job to support his family. In the midst of his depression, he wanders into a bowling alley and crosses paths with the stylish, smooth-talking Jerry Slocum (Lloyd Bridges), and the two connect over a shared military past. Slocum has a job for Tyler alright, but naturally it's not on the up-and-up. Tyler discovers the job is as Slocum's getaway driver, and Tyler opts to join him in a string of robberies.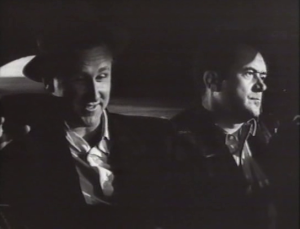 As their "crime wave" escalates, it catches the attention of the press, in form of columnist Gil Stanton (Richard Carlson). Stanton reluctantly begins to cover the duo's exploits, and the media angle of the film makes it feel like half traditional crime story and half social problem film.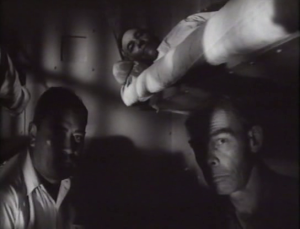 The film excels when focusing more on the criminals than the press. Frank Lovejoy in particular gives an outstandingly measured performance as Tyler, a performance which gets better and better with every scene as Tyler's conscience slowly erodes his constitution. Lloyd Bridges turns in a beguilingly smooth performance that eventually turns entertainingly wide-eyed and crazed. Director Cy Endfield excelled in a variety of genre pictures, and he and cinematographer Guy Roe (who shot his share of noir pictures) create a wonderful sense of tension here, using increasingly claustrophobic framings and oddly yet precisely staged shots (such as the one to the above left) to ratchet up the viewer's unease as the picture draws to its explosive close.
When it comes to the film's treatment of media sensationalism, there is arguably some resonance for today's audience. However, while Try and Get Me! was based on actual events, even within the world of the film, the escalation of the climax feels a touch forced.
Crashout is a more overtly hardboiled story, with a group of convicts breaking out of prison in an exciting opening sequence. Six of the escaped prisoners uneasily band together with the goal of holing up until the cops have eased off the manhunt, and then claiming the lead con's—played with steely yet sinister restraint by William Bendix—stashed loot of $180,000. But with strife in front of them and the police behind them, how many of them will make it to the stash?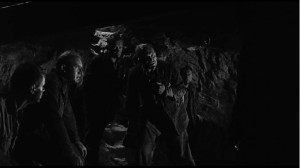 Like its characters, Crashout is on the move when it needs to be, and stops to catch its breath when it needs to, earning its suspense from the audience honestly and consistently. Replete with men of craggy faces and craggier dispositions, Foster and co-writer/producer Hal Chester's dialogue provides characterizations that are spartan, yet distinctive and full. As important as the dialogue is, however, this is a character actors' showcase. Stars William Bendix and Arthur Kennedy are both terrific here—particularly during their frequent face-offs throughout the film—but the other four members of the crew leave a lasting impression, especially William Tallman as the creepy "Swanee" Remsen.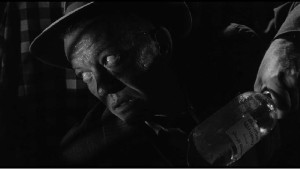 Cinematographer Russell Metty (also DP on the noir masterpiece Touch of Evil) gives us a rural noir that is every bit as compelling as an urban one. There are, after all, few things darker than a country night. Although, that said, more films should also have snow-covered showdowns like this one.
If you can't make it to what will certainly be gorgeous 35mm prints of these films on Saturday, be sure to check out Try and Get Me! on Amazon Prime Instant Video. And if you're eager for more crime, deceit, and self-destruction, then—as promised last week—here are a few slightly more obscure film noir titles for your enjoyment.
SYNOPSES AND POSTERS FROM THE MOVIE DATABASE
A man is released from prison only to find himself involved with criminals who demand to know where he hid the money from the heist he was convicted for.

---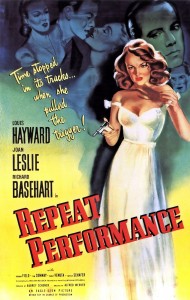 Sheila Page, a Broadway star, shoots Barney, her murderous husband on New Year's Eve. She flees her apartment and goes to her Producer, John Friday. When she arrives, it is New Year's day, a year earlier. She has been given the chance to live life over and correct the errors of the past only to find that the end will be the same although the path will be different.

---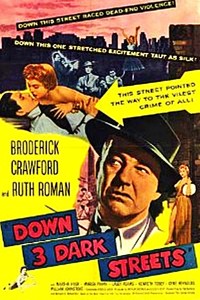 An FBI Agent takes on the three unrelated cases of a dead agent to track down his killer.

---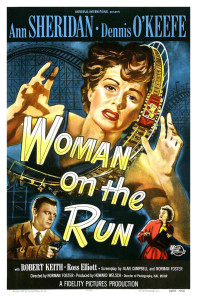 Frank Johnson, sole witness to a gangland murder, goes into hiding and is trailed by Police Inspector Ferris, on the theory that Frank is trying to escape from possible retaliation. Frank's wife, Eleanor, suspects he is actually running away from their unsuccessful marriage. Aided by a newspaperman, Danny Leggett, Eleanor sets out to locate her husband. The killer is also looking for him, and keeps close tabs on Eleanor.

---