Review: Wisconsin Film Festival
Good Manners | Juliana Rojas, Marco Dutra | Brazil, France| 2017 | 135 min
The bizarre relationship between two Brazilian women establishes the foundation for a mind- and genre-bending cinematic odyssey in Good Manners.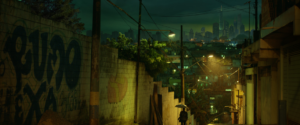 Mulholland Dr. meets Rosemary's Baby in this sumptuous, cleverly inventive, and phantasmagorical genre mash-up from directors Juliana Rojas and Marco Dutra. At once an observant look at social stratification in Brazil, an enigmatic contemporary love story, a surreal, erotic horror odyssey, and a discreet movie musical, Good Manners is never what you're expecting.
In the beginning, the film focuses on the peculiar, intimate relationship between Ana, an affluent, somnambulistic young mother-to-be and Clara, her newly hired, lonely and dark-skinned children's nurse. A  vague sense of unreality pervades Good Manners while this sensual chamber drama unfolds within the insular setting of a São Paulo high rise. The city skyline's background representation as stunning matte paintings heightens the film's theatrical, dreamlike atmosphere. As it morphs into a completely different movie altogether, Rojas and Dutra reveal their refined aesthetic sensibilities, remarkable technical proficiency, and fertile imaginations. Although some of the special effects seem incongruous and the film's second half ultimately fails to deliver on its initial promise, I personally enjoyed every minute of it.
With its lush but uneven visual palette, elegant, modern production design, startling bursts of grotesque violence, and exquisite stylistic flourishes, Good Manners stands as an irresistibly unique work of art and a fresh, consistently unpredictable cinematic experience.