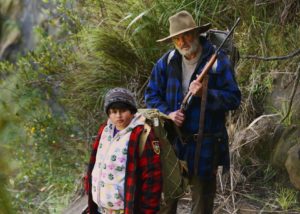 Review: Theatrical Run
Hunt for the Wilderpeople | Taika Waititi | New Zealand | 2016 | 101 minutes
A fan favorite at the 2016 Wisconsin Film Festival returns for a theatrical engagement at Sundance Cinemas. Edwanike Harbour believes that Hunt for the Wilderpeople confirms Taika Waititi's comic storytelling talent.
If you missed your chance to see the opening night film and audience award winner at the 2016 Wisconsin Film Festival, Hunt for The Wilderpeople returns for a theatrical run at Sundance Cinemas this weekend. A gangster-rap loving pre-teen (Julian Dennison) and a crotchety old mountain man (an almost unrecognizable Sam Neill) partner up for this warm-hearted comedy which will leave you in hysterics.
Cross-cultural or "buddy" comedies typically miss the mark, but Hunt for the Wilderpeople is effortlessly funny. Writer/director Taika Waititi (What We Do in the Shadows) delivers one-liners and sight gags, but also crafts genuine characters and touching moments in the midst of the humor.
Social services sends the chubby, young Ricky Baker to live with Aunty Bella (Rim Te Wiata) and her husband Uncle Hec in the New Zealand countryside. Ricky is obsessed with gangster-rap (he even names his dog Tupac) and takes a while to warm up to the new couple. He has been passed from foster home to foster home and the system is running out of options for placement. Despite unsuccessful attempts to run away, Ricky does begin to take a shine to gentle and patient Aunty Bella. She piques his interest in what lies just outside the deep brush surrounding their homestead.
After tragedy strikes Bella, Uncle Hec, the ultimate curmudgeon, is not particularly interested in trying to raise the troubled Ricky on his own. Ricky makes one more effort to run away before social services come to retrieve him. Uncle Hec goes after him but can't bring him back in time before social worker Paula (Rachel House) and Officer Andy (Oscar Kighley) arrive. They assume Ricky has been kidnapped. A series of absurd misunderstandings follows as Uncle Hec and Ricky escape through the New Zealand wilderness with impeccable comic timing.
The film excels in its ability to win its audience over immediately with the tough but lovable Ricky and his adoration for hip-hop. As is the case for many children with hardened exteriors, Ricky is trying to find a place where he can fit in. Uncle Hec has a lot in common with Ricky in this regard as he suddenly finds himself thrust in a totally different role than he is used to. The tender moments between Ricky and Uncle Hec are quite genuine and don't come across as hokey or too sentimental in anyway.
Waititi harnesses the frenetic energy that a boy Ricky's age would have. The impulsiveness and wild imagination show up in some offbeat ways but not in a cartoonish factor. In one adorable scene, Ricky builds an imaginary Walkman out of twigs and breakdances to music that he makes up in his own head as Uncle Hec looks on. Ricky's indomitable spirit, the direct opposite stern Uncle Hec's worldview, drives the narrative forward. Even it its slower moments, the film still manages to find the right chord with its audience. Waititi knows how dial back the humor when appropriate but finds just the right touch to get the audience laughing again.
Some viewers may make comparisons to Pixar's UP, but Ricky does not start out as eager to please. The film presents Ricky's perspective and we understand the internal processes of a young boy as he struggles to make sense of the world. We also watch as the grizzly Uncle Hec forms a relationship with Ricky that he could not have fathomed just weeks ago.
Waititi takes us on a fantastic journey that encompasses every bit of humor and pathos while clearly having a great deal of respect for his audience. Waititi may well be on his way to becoming an auteur with his uncanny sense of comic timing and narrative.
The sense of balance, character development, and story arc make for arguably one of the year's best films. Any director who can keep a film this buoyant without manipulating the audience emotionally and going for cheap laughs has a bright future ahead. We should all be looking forward to Waititi's next entry.