Review: Limited Run
Kubo and the Two Strings | Travis Knight | USA | 2016 | 102 minutes
Erik Oliver argues that Kubo and the Two Strings provides an opportunity for animation studio Leika to showcase its technology and talents, resulting in a visually impressive and emotionally compelling cinematic experience.
Kubo and the Two Strings may seem familiar at a glance, but it infuses its simple story with bold melancholy, moments of true danger, and extraordinary beauty.
The latest from stop-motion studio Laika is fundamentally a story about stories, and it lets us know that from its very first moments. "If you must blink," young storyteller Kubo (Art Parkinson) tells us, "do it now." With that invitation, Kubo both begins his story and serves as a mouthpiece for Laika. His words are a boast from a studio that's been quietly building its craft to masterful levels, and a warning not to concede to danger, or to sorrow. Kubo risks diving to darker depths than many children's films are willing to, and it delivers a better understanding of life's virtues.
Kubo is a boy growing up in a pastoral ancient Japan. He spends his days telling stories to his fellow villagers, always beginning with a refrain of his opening line. Kubo has a gift: by plucking an enchanted shamisen, he can bring paper figures to life and play out his stories in miniature before his audience's eyes.
Day after day, he recounts tales of his father, a great samurai who died soon after Kubo's birth. Kubo never finishes his stories, though, always fleeing at dusk and leaving his audience in limbo. At home, he cares for his sick mother, who warns him never to be alone beneath the night sky. He would be at the mercy of his grandfather, the Moon King, who killed Kubo's father and plucked out one of Kubo's eyes at birth. Given the chance, she says, The Moon King will take the other eye, so that Kubo can live with him in the heavens, in cold immortality.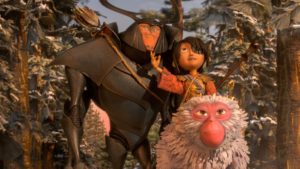 Of course, Kubo stays out after dark, and is confronted by his wraith-like aunts, who call eerily for him from behind Noh masks. After a pursuit and the destruction of his village, his mother gives her life to save him a second time, and brings to life a monkey charm (Charlize Theron) to protect him. Monkey insists that Kubo must find the three pieces of his father's armor scattered across the land, in order to protect himself from his grandfather. As they set out, they are joined by a humanoid beetle (Matthew McConaughey) who claims to have been a samurai in service of Kubo's father.
Kubo thus takes a very traditional form—the quest story. But while the movie doesn't quite deliver its expected beats with as much elegance as it might, it's easy to forget the familiarity of the setup when every frame is so heart-stoppingly gorgeous.
Over the course of their past three features (Coraline, ParaNorman, The Boxtrolls), the artists at Laika have been honing their craft, and with Kubo, they've finally found an epic through which to unleash it. The animation in this film is astonishingly fluid and vibrant, but shot through with the tactility that stop-motion allows for. This is a movie heavy with creatures, and each one dazzles—a giant skeleton with a crown of swords; an underwater garden of eyeballs that entrance their victims; Kubo's aunts, with their porcelain faces, kiseru pipes, and Shining-esque menace; and the Moon King himself, whose appearance I won't spoil.
Even with these levels of spectacle, though, Kubo's humanoid characters are no lesser a marvel. One of Laika's biggest innovations in stop-motion has been their use of 3D printing to get the widest array of facial expressions possible, and Kubo is a great showcase for that. Each character is beautifully designed, and the nuance of expression on these puppets' faces is jaw-dropping. Those expressions convey emotions that are vital to Kubo's success.
That richness of emotion, and the film's willingness to explore them in quieter, lyrical moments, is nearly as astonishing as the animation. Kubo's scale, for all its spectacle, is small, but it imbues that scale with great personal meaning. The movie doesn't much bother to link its many geographical climates in a logical way, opting instead for a dreaminess reminiscent of myth, and that abstraction allows for subtler, smaller moments that bring the characters to life.
Ultimately, this is only a story about a family—in many ways, it recalls the dynastic conflict of other classic myth cycles (most prominently in American culture, Star Wars.) And the Moon King himself is not exactly evil – he wants his grandson to live with him in immortal perfection, to be blind to the horrors of the mortal world. Yet Kubo, and Kubo, asserts the importance of mortality. The Moon King is, in a way, right. There are terrible things to see in this world – death being among them – but there are also days worth dying for. Indeed, for stories to have meaning, Kubo argues, they must have an ending. Yet even once Kubo's parents have died, their wisdom lives on for as long as Kubo keeps plucking his song and sharing his stories.
Kubo works not only as a celebration of storytelling itself, as a way to give meaning to our lives in our time and after, but also of the beauty in a finite existence. In that sense, the movie's aesthetic splendor itself is a counterargument to its villain's cries for perfection: an ecstatic, vibrant world made from commonplace materials and brought to life, frame by frame, through human hands.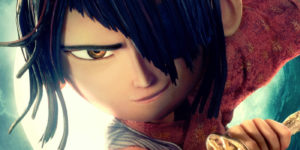 Kubo achieves both crowd-pleasing thrills and profundity, and much of its weight in this regard falls on its voice actors, who are universally excellent. Art Parkinson is vulnerable and strong in equal parts as Kubo, in a really excellent child performance, and Charlize Theron imbues Monkey with the same ferociousness and sensitivity she gave to Furiosa in last year's Mad Max: Fury Road. Matthew McConaughey's Beetle is one of the rougher spots, given most of the movie's comic relief, which always feels a draft or so away from really working. As the story goes along he becomes more pivotal and more endearing, and McConaughey wears buffoonery pretty well. Rooney Mara is all hollow menace as Kubo's aunts, and Ralph Fiennes makes for a disarming and then chilling Moon King, channeling much of his work as Voldemort in the Harry Potter movies (which were likely more contemporary for much of Kubo's production).
But the casting also feeds into a sore spot: Kubo's relationship with Japanese culture. As great as the performances are, it's inexcusable to have a majority white cast when the film so explicitly draws on Japanese tradition, when there's such a clear opportunity to hire Japanese-American actors.
It's also hard to reckon with Kubo's use of Japanese aesthetics and motifs when they're mostly in service of a very Western quest story. Mark Haimes and Chris Butler's screenplay works in a pretty scattered use of real Japanese folklore, mostly name-checking ideas rather than making them a true foundation for the story. At times they choose more conventional storytelling routes over more genuine, and less comforting, Japanese storytelling tendencies.
Yet it's fair to note that the film's story owes as much if not more to Japanese role-playing games and Kurosawa films—that is, Japanese media that is itself influenced by Western storytelling conventions—as it does to Japanese folklore. Kubo also imbues nearly every element of its story with a singularly Eastern conception of mortality, which helps to keep the aesthetics from feeling like empty appropriations. There's a very clear commitment to detail, coupled with a lack of stereotypes common even in well-regarded American stories about Asian culture (ahem, Mulan), that indicates the team was well-intentioned and respectful, if not fully comprehending, of the Japanese elements in use.
Still, the fact of the matter is that Laika should have sought out more Japanese voices, figuratively and literally, to help tell this story.
Even so, it's clear the artists behind Kubo cared greatly about their work, and every ounce of effort shows. Even in a summer that wasn't a wasteland, Kubo and the Two Strings would be a landmark for animation and mainstream storytelling. It's equally capable of evoking whimsy and danger, and unafraid to portray pain. Even with Laika's previous record of great movies, Kubo is a standout effort, a clear demonstration of their ability to spin a great yarn while still infusing bracing sophistication.
Kubo begins all of his stories, and this film, warning us not to blink; you can blink watching Kubo, but you won't want to.
---
Note: This review was originally posted during the theatrical run of Kubo and the Two Strings on August, 24, 2016.