Review: Wisconsin Film Festival
Revenge
| Coralie Fargeat | France | 2017 | 108 min
A hyperstylized, subversive and empowering rape-revenge fantasy, Coralie Fargeat's assured debut feature is all about the execution.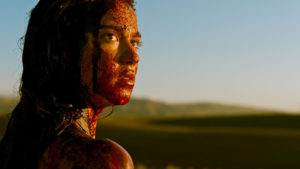 With her ultraviolent, viscerally intense, and visually spectacular rape-revenge thriller, French newcomer Coralie Fargeat turns a typically problematic subgenre of horror inside out. The closest thing to a feminist take on this kind of film since Abel Ferrara's Ms. 45 (1981), Revenge brings an unprecedented and refreshing female gaze to a familiar formula, while pushing the boundaries of what can be depicted on screen.
The simple plot concerns the traumatic sexual assault and attempted murder of Lolita-like Jenifer (played by Matilda Lutz), followed by an incredible return and brutal retaliation that echoes Alejandro G. Iñárritu's The Revenant (2015). Although this tale has been done to death by male directors, Fargeat breathes new life into it with her refined execution, subversive sensibility, and over-the-top gore. Along the way, the scope of her artistic vision covers a surprisingly broad range of diverse styles, recalling the works of Quentin Tarantino and Gaspar Noé as much as Terrence Malick.
Matilda Lutz delivers a remarkably magnetic, nuanced, and unflinching performance, while essentially portraying two completely different characters as Jenifer morphs from fragile victim to bloodthirsty hunter.
Squeamish viewers should probably abstain from seeing Revenge, but Fargeat's assured debut feature triumphs as a turning point in the history of genre filmmaking, a bold, transgressive work of art in its own right, and an extremely satisfying cinematic experience.