Review: One Night Only
The Early Films of Don Hertzfeldt | USA | 1997-2005 | Program 42 minutes
James Kreul looks at the opening night of MMoCA's Rooftop Cinema series, which provides an intriguing look at the development of animator Don Hertzfeldt's unique style and sensibility, despite being a disappointingly short program.
Rooftop Cinema, the Madison Museum of Contemporary Art's annual summer film series, kicks off this week with a brief survey of the early films of animator Don Hertzfeldt. Thanks to the miracle of Netflix, many people are now familiar with Hertzfeldt's most recent films: the feature It's Such a Beautiful Day (2012) and the Oscar nominated short World of Tomorrow (2015). His widest mainstream exposure, however, might be for his opening two minutes for an episode of The Simpsons in 2014.
The Rooftop Cinema program Friday night traces the development of key components of Hertzfeldt's style and sensibility: relatively simple stick-figure character designs; self-aware dark humor; display of the animation process; and an alternation between small-scale personal and large-scale universal obsessions and themes.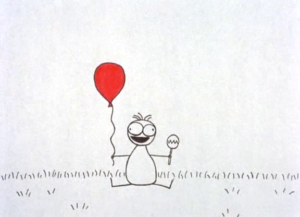 In the context of American independent animation, Hertzfeldt fits somewhere between the intellectually ambitious, self-aware work of George Griffin and the more audience-friendly Bill Plympton. On that scale, Hertzfeldt's interest in structured gags and violent humor puts him closer to Plympton, at least early on. The most Plympton-like short in the Rooftop program is Billy's Balloon (1998), produced as a student film at University of California, Santa Barbara. It is a gag-based film structured by simple repetition and variation, but it is a pretty funny gag. Despite the lack of detail in character designs and backgrounds, Hertzfeldt displays a keen sense of rhythm and movement with the balloon, and an understanding of expressive gesture and posture with Billy.
Hertzfeldt's use of expressive movement in Billy's Balloon was a noticeable improvement from the relatively static and talky Lily and Jim (1997). But despite lacking the dynamic qualities of his later work, this student film does showcase some of Hertzfeldt's qualities and interests that he will develop in future films. The premise is an interview with both participants in a disastrous blind date. By the end, Hertzfeldt's perspective on romantic relationships is pretty clear: they're impossible, because we can never truly understand each other.
While the film is dialogue heavy, so is his latest film World of Tomorrow. The difference is that the more recent film also showcases Hertzfeldt's wild imagination, while Lily and Jim tends to limit itself to the realism called for by the scenario. That does not mean that Lily and Jim completely lacks visual sophistication. Even in this early film and its simple character designs, Hertzfeldt demonstrates his keen understanding of physiognomy and expression. Take, for example, Jim's subtle facial expressions when Lily asks him if he wants more coffee, even after he has had an allergic reaction to the caffeine. Hertzfeldt earns a laugh out of what seems like nothing.
Many fans were introduced to Hertzfeldt though his breakthrough 2000 film, Rejected, which earned him his first Academy Award nomination. Intertitles explain that Hertzfeldt is frustrated by the rejection of a series of commissioned projects from commercial clients like the "Family Learning Channel" and "Johnson & Mills Corporation," so he shares the rejected films with us. Hertzfeldt's wild imagination, subdued in Lily and Jim, comes to the foreground. The commissioned bumpers and commercials are completely absurd, with excessive violence, sick humor, and jaw-dropping non sequiturs.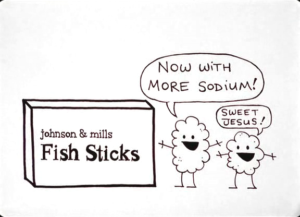 Here Hertzfeldt continues a move from the Plympton end of the spectrum to some more ambitious qualities on the Griffin end of the spectrum. First, the premise of the film is a critique of the institutional support for American independent animators, a topic of interest for Griffin, particularly in his writing (see for example his essay "Cartoon, Anti-Cartoon.") Second, Hertzfeldt more overtly foregrounds the material properties of independent animation, especially paper cels (instead of the transparent cels of studio animation). It would have been nice to include one more film in this program before Rejected to flesh out this development in Hertzfeldt's career: his 1996 film Genre is a throwback to Max and Dave Fleisher's Out of the Inkwell series and also recalls segments of Griffin's Lineage (1979). In Rejected, the most overt formal play comes at the end as everything seems to fall apart, and even the paper animation cels can't escape the destruction (see top image).
The early short in this program that most clearly anticipates Hertzfeldt's more recent work is The Meaning of Life (2005). Of these films, it is the least dependent on gag structure, in fact it is not really laugh-out-loud funny. Instead, Hertzfeldt allows his imagination to run even wilder than in Rejected, this time contemplating the whole of human existence, and beyond. Like World of Tomorrow, in The Meaning of Life Hertzfeldt tries to grapple with our place in the universe in the context of all time and all space.
His view of our place in space and time is pretty bleak. We're all just walking around making noise until we die. Then we'll be replaced by other things just walking around making noise until they die. A Minion-like father scoffs at his Minion-like son when he asks him the meaning of life. It's easy to agree with the father as Herzfeldt pulls back and reveals the Earth rotating around the sun, and pulls back further to reveal the sun as one of many small dots in the universal landscape.
With World of Tomorrow, Hertzfeldt makes many of these ideas more concrete and more compelling as we consider the fate of the protagonist, the third generation clone of Emily. But The Meaning of Life is still an intriguing film on a stylistic level as Hertzfeldt experiments a bit more, especially on the soundtrack. (In fact, I'm not sure how well the crucial soundtrack will play in the context of an outdoor screening on State Street.) Hertzfeldt also experiments with vivid, gradated color backgrounds, which play a more direct and significant role in World of Tomorrow.
Anyone interested in the current state of independent American animation should familiarize themselves with Don Hertzfeldt, and this Rooftop Cinema screening will serve as a fine introduction to his work. My only complaint is that the length of the program, 42 minutes, is pretty short for a $7 admission price (for non-members). The late start time (due to, you know, the sun) and MMoCA rooftop hours limit programming options here, but the cost for general audiences will also limit the reach this fine series could have.