Jason Fuhrman reviews the Academy Award winning The Salesman ahead of its return at the inaugural Wisconsin Iranian Film Festival this weekend. A seamless blend of cinema and the theater, Asghar Farhadi's complex, enigmatic and multi-layered drama intimately examines the fissures in a middle-class marriage about to collapse.
Editor's Note: Be sure to check out the complete lineup for the inaugural Wisconsin Iranian Film Festival at their Facebook event page.
In addition to The Salesman, this weekend's films include Reza Dormishian's I'm Not Angry, Seifollah Samadian's 76 Minutes 15 Seconds with Abbas Kiarostami, and Abbas Kiarostami's final short film, Take Me Home.
Next weekend will feature Mani Haghighi's A Dragon Arrives, Narges Abyar's Breath, and Bahram Bayzai's Downpour. The Madison Film Forum plans to review Breath next week.
---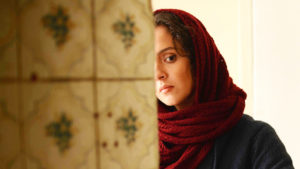 With its exquisite vérité photography, vast psychological acuity and meticulous attention to detail, Asghar Farhadi's The Salesman mounts palpable tension, while contemplating elusive motivations and the enigmas of human personality in the context of a repressive culture. Farhadi creates a realistic buildup of suspense out of ordinary incidents by subtly upsetting societal norms and precisely observing the results. He clothes The Salesman with the pace and structure of a crime thriller, but ultimately reveals a nuanced, wrenching moral and psychological drama about how one man's rage and egotism undermine the stability of his marriage.
The Salesman opens on an image of an empty marriage bed. As people move properties, adjust lightning, and arrange scenery, it becomes apparent that we are looking at a theatrical production. Farhadi offers successive close-ups of various perspectives before drawing back to reveal the stage in its entirety.
All of a sudden, we hear shouts and find ourselves in a Tehran high-rise apartment building at night, which the inhabitants are hurriedly evacuating. Nearby construction has weakened the foundation of the structure and it is on the verge of collapsing. This brief, but calamitous, event effectively sets the scene for the sinuous story of marital discord to follow. Cracks in the walls and windows prefigure the psychological fissures and tensions that develop, seemingly out of nowhere, between a husband and wife.
Among the residents forced to flee the building, Emad (Shahab Hosseini) and Rana (Taraneh Alidoosti) are married amateur actors rehearsing for an Iranian presentation of Arthur Miller's Death of a Salesman. (Onstage, they portray Willy and Linda Loman.) One of their fellow performers generously offers them a spacious, vacant two-bedroom apartment on the top floor and they move in. The previous tenant, a single woman with a young child, has left many of her personal possessions behind. Residual traces of the woman haunt the household as her mysterious life becomes intertwined with the couple's relationship.
One night, while Emad is away, the apartment's buzzer sounds while Rana takes a shower. Presuming it to be her husband, she lets someone in and returns to the bathroom. When Emad does return from his errand, he notices traces of blood on the steps leading to his unit. Alarmed, he rushes upstairs to the apartment and discovers more blood, along with broken glass, in the bathroom. He immediately proceeds to the hospital, where he finds Rana unconscious, badly injured, and receiving stitches in her head.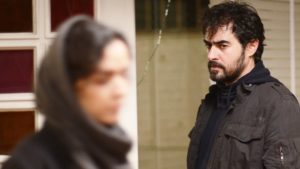 The crime activates latent conflicts in their marriage. Profoundly rattled by the experience, Rana is unable (or unwilling) to identify her assailant and refuses to involve the police. She does not want the matter to become public and would prefer to forget it altogether. Emad, however, seems more concerned with the injury to his own fragile masculinity and self-image. He becomes increasingly obsessed with identifying the perpetrator and embarks on his own investigation.
The Salesman can be intense and overwhelming to watch, but its intricacy and richness reward repeated viewings. Farhadi's deft use of silence, body language, and nonverbal communication imbues the film with ambiguity and allows ample space for interpretation. As we mentally accumulate details and our perceptions shift, he keeps us constantly guessing about the inner worlds of the players, declining to feed us any kind of absolute reality.
The meaning of Farhadi's choice to stage  within the film may not be immediately apparent, but it is by no means arbitrary. Farhadi refrains from drawing direct parallels between Miller's play and the domestic situation of Emad and Rana, except when the couple reenact the Lomans' fraying relationship in real life. Instead, he embraces a theatrical, melodramatic approach to exploring social and psychological rifts, while showing how quickly unresolved conflicts can disrupt our mundane lives.