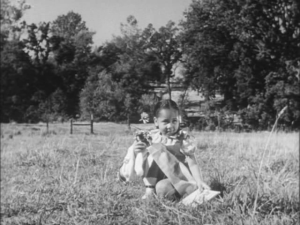 Review: Wisconsin Film Festival
The Well | Leo Popkin, Russell Rouse | USA | 1951 | 86 minutes
James Kreul argues that the sole screening of The Well at the Wisconsin Film Festival should not be missed. It is a fascinating document of its time and a compelling genre-mixing drama of racial tension in a small American town in the 1950s.
We here at the Madison Film Forum are at times a bit skeptical about the "deep cut" approach to archival programming at the Wisconsin Film Festival, ranging from the Altmans that only completists are interested in to the "WTF" cult films like this year's Death Wish Club. But one advantage of the deep cut approach is that some films worthy of rediscovery are frequently showcased.
The sole Festival screening of The Well should not be missed. It's fascinating both as a document of its time and as a drama with enduring social relevance. Consider The Well's time slot: Marguerite is coming back for a theatrical run; Henry Gamble, Tharlo, Kill Me Please have second screenings; only the sole screening Morris from America makes this a difficult choice.
Producer Leo Popkin and screenwriter Russell Rouse had just completed the late film noir classic D.O.A. (1950) when they turned their attention to co-directing this police procedural and social drama with an unusually frank approach to racial tensions in America.
The film opens with a black girl, Carolyn Crawford (Gwendolyn Laster) wandering into a field to pick flowers. While skipping along, she falls into an small open well obscured by overgrowth. Even if she could scream for help, no one could hear her.
Mrs. Crawford (Maidie Norman) calls her husband (Ernest Anderson) and Sheriff Ben Kellog (Richard Rober) when Carolyn does not come home from school. Mr. Crawford is frustrated that she called him away from work, when it was hard to get his current job in the first place. Ben assures her that Carolyn will turn up, and he promises to look for her.
Ben remains confident in his assessment until he gets a call from Carolyn's teacher reporting that some schoolmates saw her walking with an unknown man. Various leads bring Ben to the local flower shop, whose owner confirms that a man bought Carolyn a flower. When the shop owner describes the man as having "brown, possibly blonde hair," Ben realizes that he was incorrectly working under the assumption that the man in question was black. "I'd appreciate it if you didn't talk about his with anybody," Ben suggests as he leaves the flower shop. But news in a small town travels quickly, and the rumor quickly spreads that a white man is suspected of kidnapping a black girl.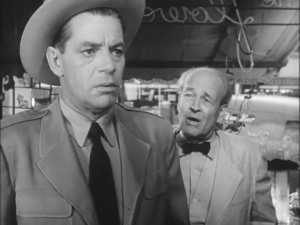 It's worth taking a moment to consider Ben's realization that he's looking for a white man. Racial assumptions that usually go unsaid in films of the period come to the surface in many memorable moments in The Well—sometimes with surprising humor. Ben is a good man, but he's no Atticus Finch. In fact, what's great about The Well is that no one is Atticus Finch. Ben is alarmed because he's perfectly aware of the lack of trust between the black and white communities in town, and he knows that he must find a solution to a potentially explosive situation.
The Well is also intriguing in that it makes the differences in economic opportunities for the respective communities crystal clear, starting with Mr. Crawford's point about how hard it was for him to find a good job in town. Those economic dynamics are further complicated when the white male suspect turns out to be Claude Packard (Harry Morgan), a visiting nephew of one of the most important businessmen in town, Sam Packard (Barry Kelley).
Tension turns to violence when Mr. Crawford confronts Sam Packard concerning the rumors about Carolyn and Claude. One scuffle is answered by another scuffle as the violence escalates.
The Well pulls no punches in conveying ugly but common attitudes about race. "You gotta know how to handle 'em, you gotta keep 'em in line" suggests one young white man when hearing about the Crawford-Packard scuffle. "Don't think we won't when the time comes. When they start beating up white guys, that's the time to do something," answers his friend Chip, as two young women approach in the background. One girl is miffed that Chip is not paying attention to her, so she approaches the men and fabricates a story, "I don't think you even care that I was just insulted. A nigger. Sally and I were walking along Carson street. What do you expect us to do? After all we're just a couple of helpless girls. . ." The young men respond by beating up the next black man they find. In its conciseness, the sequence provides another interesting contrast to the central incident in To Kill a Mockingbird.
While the black community certainly is not given equal time in The Well, black characters do express their concerns about the possibility of justice in the case. "The authorities are bound to be biased," one black youth suggests in a discussion of the arrest of Claude Packard, "It's only natural they'll be influenced by race prejudice. . . A white man is accused of a crime against a negro child. This time the shoe's on the other foot." Black laborers suggest that Sam Packard's economic standing in the community will lead to Claude's release.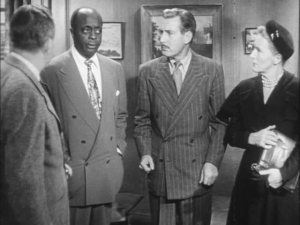 Possibly the most interesting and blunt sequence comes in a scene in the Mayor's office, where Ben argues for calling in the National Guard for help. One leader objects to the idea, arguing that the white and black communities have lived in harmony for years.
"Has any of you ever seen a race riot?" asks black community representative Dr. Billings (Bill Walker) in response. "I have," he explains, "I saw a whole town go mad. . . I saw my own father's body tied to a car and dragged through the streets. And the driver of that car was a man my father had known for twenty years. I saw a white child beaten to death by my own people. . .You can't believe it unless you've seen it with your own eyes." While it was not unheard of for Hollywood to address issues of race—Elia Kazan's Pinky was Twentieth Century Fox's top grossing film of 1949— there's a point in The Well where the tensions escalate to a surprising degree for a mainstream film of the period.
As raw as the racial tension gets by the end of the second act, perhaps just as surprising is the degree to which that tension is left unresolved by the shift in the third act to the rescue of Carolyn in the well. While narratively the rescue of Carolyn functions to bring the communities together, it doesn't explicitly address the long list of social and economic disparities brought up in the first two acts. Those issues just sit there, lingering in the mind of the viewer, while the third act takes us in a different, more conventional direction.
While film noir and social dramas are important reference points for the film's visual style, one might also consider the influence of Soviet Montage in several sequences. Several socially-conscious left-of-center filmmakers in America were influenced by Eisenstein and Vertov and their efforts to link message and style. Leo Hurwitz, for example, came out of the Worker's Film and Photo League and the Nykino group to produce socially-conscious narrative-documentary hybrids like Native Land (1942) and Strange Victory (1948). (David Bordwell even uses a kind of layout montage in his recent discussion of Strange Victory.) In The Well, the riot sequences and the well rescue sequence feature elements of Soviet Montage as individuals are absorbed into group antagonists or protagonists. In the case of the well rescue, its interesting to note the degree to which a group protagonist approach has been absorbed by the film, especially at the very end as the group simply dissipates without close-ups of some pretty significant characters.
Some elements of The Well have not dated well, including some dialogue and the performance styles of some minor characters (like Bert the milkman, who was certainly comic even at the time of release). But the Festival audience should find the candor with which the issues are addressed to be compelling and the central drama to be just as relevant in 2016 as it was in 1951.
For other entries in our 2016 Wisconsin Film Festival coverage, click on #wifilmfest in the navigation menu.