Welles Week: Part One of Five
Streaming Quick Picks: Directed by Orson Welles
The Madison Film Forum will focus on the UW Cinematheque's year-long Orson Welles: A Centennial Celebration series this week with articles and reviews to prepare you for what will be a great opportunity to see films by one of the great talents in the history of cinema. Many film organizations will observe the 100th anniversary of Welles birth on May 6, 1915 in Kenosha, Wisconsin with special screenings, including an extensive series at the Film Forum in New York (follow the link for great Welles related articles and audio files). The UW Cinematheque's contribution to the celebration, which begins with Citizen Kane (1941) on Saturday, will include several 35mm prints (and some archival DCPs) of films that should be seen on the big screen to be truly appreciated. Our humble contribution to the conversation hopefully will motivate you to discover or re-discover these great films, either at home or at the Cinematheque.
Today: Welles Streaming Links and DVDs
Tuesday: Jake Smith on Othello (1952)
Wednesday: Jay Antani on Mr. Arkadin (1955)
Thursday: James Kreul on Citizen Kane (1941)
Friday: Taylor Hanley on The Lady from Shanghai (1948)
For this first entry we will focus on streaming and DVD resources for films directed by Welles (we will follow up with Welles as an actor in the near future). Completists might want to start with The Hearts of Age (1934) the short film that Welles described as "shot in two hours, for fun, one Sunday afternoon." But the recently rediscovered work print of Too Much Johnson (1938) provides another example of Welles's pre-Kane cinematic adventures. The footage was produced as part of a Mercury Theater production of William Gillette's 1894 play of the same name (each of the three acts were to have filmed prologues). Another lesser known project listed below is It's All True
 (shot 1941-2, released 1993), which reconstructs a "lost" project Welles worked on in South America during the post-production of The Magnificent Ambersons (1942). Michael Wilmington provides a good summary of the history of the It's All True project in his 1993 Chicago Tribune coverage.
In addition to the lost or unfinished projects (like The Other Side of the Wind, which finally will be seen widely in 2015), some of Welles's finished films are available in different versions. His 1954 feature is known under two titles, Mr. Arkadin and Confidential Report. Jonathan Rosenbaum famously wrote an article, "The Seven Arkadins," outlining differences between available versions of the film. The Criterion Collection DVD release includes three versions of the film: Confidential Report (a 98-minute European cut); the "Corinth" version of Mr. Arkadin (a 99-minute cut from the American distributor); and a "Comprehensive" version of Mr. Arkadin (a 106-minute cut assembled by film scholars in 2006). My understanding is that Hulu is currently streaming the first two (but if I'm wrong about this, please let me know in the comments below). The UW Cinematheque lists their print of Confidential Report as 98 minutes long, the common European cut. Luckily we will avoid the 95-minute public domain cut which Rosenbaum calls "the least satisfactory version." A brief summary of the different versions can be found at Wikipedia.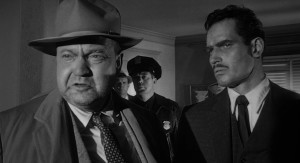 In 1998, Walter Murch re-edited Touch of Evil (1958) from available material using a 58-page memo that Welles had written after he had viewed a rough cut prepared by Universal Studios. Most of Welles's suggestions were ignored for the 93-minute 1958 release of the film. A 108-minute print had been discovered and released in 1976, but Murch's 1998 version more closely adheres to Welles's memo. Murch's 111-minute version will be screened at the UW Cinematheque series. The Amazon Instant version is listed at 96 minutes (likewise for other streaming resources), which suggests the early studio version. So buyer beware, even though the studio version is worth a look to understand Murch's changes (like removing Henry Mancini's score from the famous opening shot). For the Murch version, check Four Star and the Madison Public Library.
Don't worry about "ruining" your Cinematheque experience by watching the films ahead of the screenings. In fact, part of my Thursday entry on Citizen Kane will give you reasons to watch Kane multiple times as it greatly benefits from repeat viewings, at home and with an audience on Saturday, January 24. Interestingly, Othello is not easily available at local DVD resources, so be sure to read Jake Smith's entry tomorrow and mark your calendars for the Othello screening on Saturday, February 7.
Click on the movie posters without Amazon tags to take you to Netflix, Amazon Instant, Hulu, or other streaming resources based on current availability.
Local DVDs: Four Star Video Cooperative and Madison Public Library
For our Madison readers, here are some additional titles available locally for DVD rental or checkout. Some of the streaming titles above are also available on Blu-Ray and DVD; click the buttons below to search in their catalogues.
Local DVD links are prioritized by availability as follows: Four Star Video Cooperative then Madison Public Library. Titles are often available in both catalogues.